The Chateau by Jaclyn Goldis
My rating: 2 of 5 stars
**2.5-stars**
When Darcy's Grandmother, the elegant, yet aging, Séraphine Demargelasse, invites Darcy and her four best girlfriends to her French Chateau for a luxury Girls Getaway, they can hardly say no.
The women all studied together in France 20-years earlier and they spent many weekends at Séraphine's. It was at that time, their life-long bonds of friendship were formed, including with Séraphine. It is a beautiful spot, with many beautiful memories.
Prior to the trip, Séraphine tells Darcy she wants to discuss her will with her. This sets a bit of an ominous tone and Darcy wonders if her Grandmother is unwell.
The trip starts off fine, with everyone getting used to being in each other's company again, enjoying the sights and accommodations. It's clear they're hiding some things from one another, but what friendship group doesn't?
After a boisterous evening celebration, Séraphine is found murdered. Everyone is in shock. Who could have done this?
There's a limited number of guests, it had to be one of them, but why? Who would want poor Séraphine dead? What is there to gain?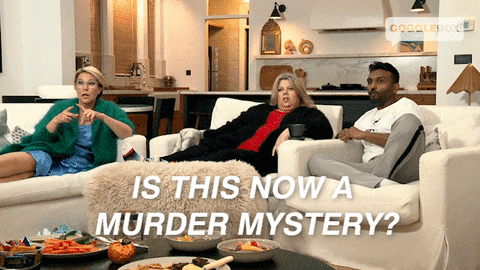 From there the story follows the various characters as the investigation into the murder begins. Everyone is a suspect and in kind, they slowly begin to fall apart.
Here's the thing, starting off, I was very intrigued by this. I love a story that follows friends, or family, traveling together, staying in remote locations on holiday. I like learning about the characters and their varied lives.
This started out strong with that set-up and while the characters weren't particularly likable, I never mind that. I like when you get everyone's perspective in a friendship group, because no matter how close they are, there's always something: secrets, resentments, betrayals, etc. I love watching it all come to light. I'm here for the drama.
Unfortunately, about halfway through this just fell off a cliff for me. It felt like it was trying to do too much and with so much thrown in, it made everything feel less impactful.
There is a betrayal revealed that turned me off. It's weird because I've read that same thing before, but the way it was done here, I was just over it. I can't even really explain why.
I don't think it was necessarily that betrayal though, like the circumstance, that killed this for me, but more like from that point on, every subsequent thing the author threw at us had me tuning out more and more. It was a turning point.
Additionally, I didn't feel invested enough in the mystery. I didn't really care who did it. I hadn't felt connected in any way to Séraphine and her murder hardly felt gripping.
I realize that sounds awful, but I just wasn't invested enough to care, I guess.
I wanted more intrigue, suspense and nail-biting moments. Instead I feel like it turned into more of a character study than a murder mystery.
Again, I feel like the downfall of this book is that it tried to do too much. It diluted the impact with so many things happening concurrently. Like the Van Gogh thing??? Completely unnecessary, IMO.
I feel like I've said enough at this point. You get it. I really wanted to like this one, but it ended up being a big miss for me. I tried, I did, but overall, pure mehhhhhhh.
Thank you to the publisher, Atria Books, for providing me with a copy to read and review. Even though this wasn't my cup of tea, I would be willing to pick up this author's next book. I'm a firm believer in second chances!