The Box in the Woods by Maureen Johnson
My rating: 4 of 5 stars
It's finally Summer and for True Crime enthusiast, Stevie Bell, that means returning home from Ellingham Academy. After solving a real-life murder case at school, working at the deli counter of a local grocery store is going to be a real Snooze Fest. Yawn, indeed.
Stevie has just about come to grips with her new Summer status when she receives some correspondence that grabs her attention. Maybe the next couple of months won't be so boring after all.
The message is from the new owner of a kid's summer camp, Shady Pines, formerly known as Camp Wonder Falls. Stevie is intrigued because she knows this camp.
In 1978, Camp Wonder Falls, and the neighboring town of Barlow Corners, suffered a terrible tragedy. Four local teens, all counselors at the camp, were killed in the woods one night, having snuck away for some private fun.
The case was never solved. Carson, the new owner, invites Stevie to become a counselor, while also working with him developing a podcast focusing on the murders.
You may be wondering why an adult would seek Stevie out and offer her this position, but keep in mind, at this point, Stevie and her crime solving antics have gained her some notoriety. Particularly in True Crime circuits. Carson believes Stevie may be able to crack the decades old case.
The kicker is, Stevie gets to bring some friends along. That sweetens the deal and she's in, along with Nate and Janelle.
But this town is as enmeshed in these murders as the camp itself, and someone doesn't want the case to be solved, putting Stevie and her friends in danger. Will they be able to figure it, or become victims themselves?
The Box in the Woods was nostalgic and fun. I enjoyed the shake-up, as far as the setting goes, in this one. I love Ellingham Academy, don't get me wrong, but this made for a nice change of pace.
I always enjoy a scary summer camp vibe and this definitely had that. It was campy, mysterious and cleverly-plotted. A fantastic set-up.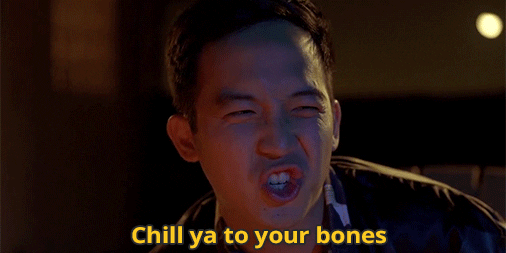 As with the earlier books in this series, you do get the past perspective played out for you as well. I enjoyed the sections from the past a lot.
You're there as the vicious crime is discovered and then taken back to learn of events leading up to it. The murders themselves were chilling, the descriptions and discovery, just imagining being in the camp when something like that happened. It was creepy.
Amateur sleuths are one of my absolute favorite tropes in a mystery and Stevie is one of the best. I love how her mind works and watching her go about her research and putting the pieces together is just so satisfying.
I also was impressed with how Johnson wrote this one so that it could actually be read as a standalone. I have read every book in this series and would definitely recommend that, but I can see how someone could actually read this on its own.
Then, once they fall in the love with the characters, they could actually go back and read the previous books.
Oh, also, before I forget, for David fans, he is in this one too and I gotta say, I enjoyed him here. I've never been a huge David-stan, but for some reason in this one, he really grew on me.
I'm not sure if it is because of everything he has been through over the course of the last two books, but he is really maturing and nicely. I'm super stoked for the next book, because I'm interested to see where their relationship goes.
For those interested, the fifth book, Nine Liars, is releasing at the end of this month, on Tuesday, December 27th.
I love these characters and the compelling mysteries Johnson brings to the page. The alternating timelines and steady progressions of the plots have never failed to keep me fully engaged.
I will continue to read this series for as long as they continue to release books. Stevie fan for life!!