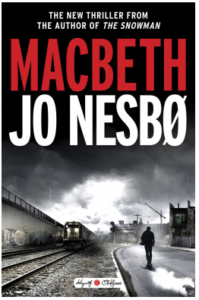 Publication Date: April 5, 2018
5-stars!!!! – A tour de force of brutality & ambition!!!
I was so excited when I discovered that the Hogarth Shakespeare series was adding Macbeth to its line up. It is my favorite of all the Shakespeare tragedies and I was looking forward to seeing how Nesbo would give it a modern twist. I have never read any of his books before but had heard very good things. He certainly did not disappoint – this soared above even my highest expectations.
The action takes place in a drug and crime-ridden city in the 1970s. Drug dealers and local crime lords hold as much power and sway over the people as do the police and politicians. The whole atmosphere is dark and visceral; you can smell and feel the dankness and despair. You are instantly dropped into this world and admittedly, at first, I was a bit confused as you are right in the action and all the players are already there. However, it didn't take long (about 15% on an e-reader) before the tale truly starts to take shape and for me, I was so engrossed, I couldn't put it down.
The characters are true to their roots as Shakespeare created them and I felt that the main premise of the action was extremely well planned and executed. The modern versions of the plot points were richly imagined and expertly woven into the final narrative. Macbeth, so strong and weak at the same time, so influenced by his Lady, easily steered, brutal yet kind, haunted and driven. Ughhh, it was soooo good! No one in this town was safe once Macbeth and Lady were set on their ultimate drive to power – aspirations and political intrigue, love for one another, plagued by their pasts – their relationship was just so spot on, there is no better way for me to describe it.
Slytherin book recommendation all day long – I absolutely adored this book! Thank you so much to the publisher for providing me with a copy for review. I cannot wait for this one to hit the streets -everyone needs a dose of this! Shakespeare himself would be proud!