For Butter or Worse by Erin La Rosa
My rating: 3 of 5 stars
**3.5-stars**
Nina Lyon has worked hard to make a name for herself as a chef. When she decided to host a culinary reality television show, some people felt she was selling out, but Nina chose to take the risk anyway.
Nina views the show, The Next Cooking Champ!, as a great way to secure her name, brand and the success of her restaurant.
Her co-host, Leo O'Donnell, is a thorn in her side however, the only real downside to the show. Dealing with him every day; good grief.
Leo doesn't mean to drive Nina nuts. He's not like aiming to tick her off or anything, it just happens. The stress of filming gets to him and he seems to direct that towards her. Whoops.
When Leo takes a joke a smidge too far, Nina quits the show, live on air.
Later when Leo and Nina get caught in what appears to be a compromising position by paparazzi, the fans go absolutely nuts. Has there been a secret relationship unfolding when the cameras are off?
Well no, but it would certainly help both of their careers if that were true. Thus, their agents arrange a fake dating relationship in the hopes of salvaging these two celebrity chefs' reputations.
For Butter or Worse is a cute and satisfying enemies-to-lovers meets faking-dating story. I enjoyed my time reading this and loved the idea of two celebrity chefs having a bit of a romance.
I wish that they would have spent more time actually involved in the reality cooking show though. That's sort of what sold me on this, so I was a little disappointed it wasn't more of a setting for the actual story.
With this being said, it was still enjoyable reading about two chefs as main characters. They come from different worlds in the culinary business and I liked reading about their challenges within their careers.
I also always enjoy an enemies-to-lovers trope and this one was well-done. I will say, I personally prefer when the banter has a bit more wit and humor, but it could be that this just wasn't fit to my sense of humor. I definitely enjoyed it, but I wasn't giggling along as Nina and Leo were exchanging barbs.
The sex scenes in this were great. I will say I enjoyed the level of steam La Rosa brought to the page here. There was just enough to keep me fanning myself, without crossing into eye-roll territory.
I also liked the sweet scenes a lot. The scenes were Nina and Leo really started to connect. While there was miscommunication, of course, it never got overplayed or annoying for me. I think the tension was well-built and resolved, so great job by the author on that.
Overall, I enjoyed this. It is a good, fun story, with believable characters and an interesting set-up. I would recommend this to fans of Jasmine Guillory ((me)), or Alisha Rai's Modern Love series ((also, me)).
I am definitely looking forward to picking-up more from this author. I think she really did a lot of things well here and I look forward to following her skills grow with future work.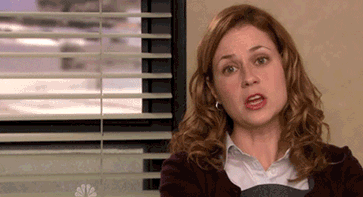 Thank you so much to the publisher, HQN, for providing me with a copy to read and review.
This is a fun book and I'm so glad I finally got around to reading it. It made me hungry…for delicious food and for more steamy romance!