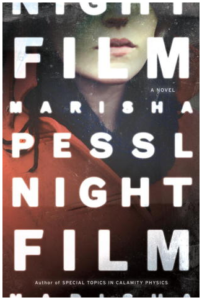 Publication Date: August 20, 2013
4.5 STARS!!!
Okay, it's best if I get this out of the way immediately: this book is a total mindf*ck. There, I said it. I know that may be an uncomfortable proclamation for some but there it is. This is the best way for me to describe this book.
It is really good…like, really, really good. So creative, dark, gripping, it wraps you up in this world of Cordova and has you second guessing even yourself. Who is Cordova? In this story Cordova is an uber-famous film director; mysterious and untouchable – he is the shadow that looms over this entire book.
Our protagonist, Scott McGrath, is a fallen from grace investigative reporter who becomes fixated on investigating the apparent suicide of Cordova's daughter Ashley. Through the course of his investigation he becomes involved with two young people, Nora and Hopper, who aide him in his investigation. The story incorporates mixed media sources such as past magazine interviews and articles, online forum posts, etc., which makes you feel as though you too are part of the investigation.
The entire book blends the line between fantasy and reality and the idea of what your mind can come to accept as truth even without definitive proof. I don't even know if I am making sense right now but this book will do that to you!
I listened to this book on audio and the narrator was absolutely perfect. His voice was Scott McGrath. The dialogue was so smart, I laughed out loud, I exclaimed curses when really scary stuff went down – I must have looked mad driving my car down the highway. I would highly recommend this book to anyone who enjoys a dark story steeped in occultism and mystery. My rating of 4.5 versus 5-stars is because the ending didn't quite work for me. I don't want to say I was disappointed with the ending, I just wish certain elements of it had gone differently. Overall, this is a fabulous examination of the human psyche and a sick, spooky read!