Onyeka and the Academy of the Sun by Tọlá Okogwu
My rating: 5 of 5 stars
Onyeka is a twelve-year-old girl living in the U.K. with her Mom. They moved there from their native Nigeria when Onyeka was very young. In fact, she was so young she doesn't remember anything about her life in Nigeria where they lived with her father.
All Onyeka knows is that when they moved to the U.K. it was just the two of them. Onyeka's Mom keeps their past shrouded in mystery, preferring to ignore the topic rather than answering any of Onyeka's questions.
This sounds sad and if she dwells on it, sometimes it does make Onyeka a little sad, but overall her and her Mom have a great relationship.
Her Mom is a strong woman who only wants the best for Onyeka. It's not all sunshine and rainbows, but you can tell the two love each other fiercely even if they don't always see eye-to-eye.
When our story begins Onyeka and her best friend, Cheyenne, are visiting the local public pool on a hot day. Even though Onyeka doesn't adore swimming, for Cheyenne she's willing to join in the fun.
However while they are both playing in the water something happens and Cheyenne ends up in distress. Onyeka, not a strong swimmer to begin with, cannot sit by while her best friend drowns. She has to help her, thus she learns the magic power of her hair.
Yes, you heard that right. The only thing saving Cheyenne and Onyeka that day was the power of Onyeka's hair.
After the very public spectacle at the pool, Onyeka gets home to a Mom that is not happy. Through their heated discussion regarding the days events, Onyeka's Mom reveals that Onyeka is a Solari, a child with special powers.
Before she can even wrap her mind around all this new information, Onyeka finds herself, along with her Mom, on a private jet being whisked off to Nigeria. Their destination is the Academy of the Sun, a school developed just for Solari.
Arriving at the School, Onyeka is overwhelmed by it all. She has to learn about this entire hidden world she knew nothing about before.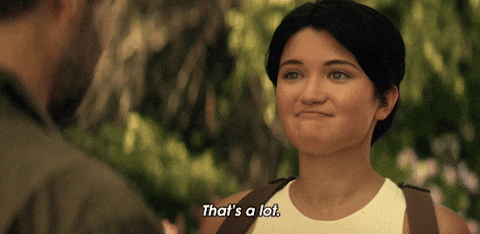 Crazier still is that she's one of them and she's powerful. Her hair, that has always been a nuisance to her and a frustration for her mother, is actually her greatest strength.
She just needs to learn to control it.
The Reader gets to go along with Onyeka as she learns all about the Solari, their history and challenges. She trains with other students, who although all Solari, have very different powers from one another.
It was a lot of fun to be in a magic school setting. There were a lot of interesting characters and Onyeka learned so much about herself from interacting with the others. She made some close friends and was able to really be herself for the first time.
I absolutely adored this story from the very first chapter. Getting to know Onyeka, she is such a special character, the kind who is easy to root for.
The story is action-packed, with a slight mystery-edge to it. I loved the themes explored, such as embracing the hidden power within yourself, letting your uniqueness shine and so much more!!!
I would definitely recommend this book to any Middle Grade Reader, particularly if you are looking for diverse, culture-filled, immersive OWN-voices stories.
You can't go wrong with this absolute ray of sunshine. It filled my heart reading this.
Thank you so much to the publisher, Margaret K. McElderry Books, for providing me with a copy to read and review.
I truly hope this isn't the last story I get to read following this lovable protagonist. Onyeka has so much more room to grow and I want to be there for every moment of it!