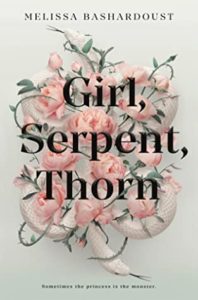 'Sometimes the princess is a monster'
Girl, Serpent, Thorn is the sophomore novel for Melissa Bashardoust; one I have been highly anticipating.
Her debut, Girls Made of Snow and Glass, a wildly creative reimagining of Snow White, blew me away when I read it back in 2018. I was astounded by her vivid imagination and level of skill bringing it to the page.
This latest story is an original fairy tale following a princess, Soraya, who due to a curse put upon her before she was even born, is poisonous to the touch. Because of this, her family has kept her locked away, a secret from the rest of the kingdom.
As she grows older, watching the world move around her from high atop the castle, unseen, she begins to grow resentful. Her brother, the Shah, is set to marry a girl she once considered her best friend; who was in fact, her only friend.
When circumstances arrive that bring a captured Div, a magical demon, into the castle's dungeons, Soraya believes they may hold the answers she seeks. The cure for her curse. Little does she know, that one bit of information could be the downfall of them all.
I enjoyed this so much. Bashardoust's writing continues to impress. The world-building was fantastic. I loved the Persian feel of it all.
Although this is an original story, I could feel the influences from many other mythologies and fairy tales. I thought it was executed beautifully. There were moments when I could see a bit of Beauty and the Beast, Arabian Nights, Sleeping Beauty or Rapunzel, to name a few.
Although it was a story full of magic powers and beings, the writing didn't suffer from trying to be overly whimsical. I find with some stories, they try to up the magic so much that it ends up overshadowing the overall plot with its whimsy. That certainly wasn't the case here!
As Soraya discovers the truth of her curse, she begins to question her entire life, what she has been told and who she can trust. There was a lot of back and forth between different characters, where as the reader, you weren't even sure who she could trust.
There were a few deep deceptions, a lot of plotting and a lot of monsters. The stakes were high and I was definitely cheering for Soraya the whole way through. She has a great arc over the course of the story as she grew in confidence and courage.
I would highly recommend this to YA Fantasy readers. If you are looking for a diverse Fantasy, Soraya is a bi-MC and the Persian influence can be felt throughout. I think this book really has something for everyone. There is a lot more I could talk about with regards to the plot, it has plenty of depth and intricacies to explore, but I think it is best to go into the story knowing as little as possible.
You can enter this one confident you are in the hands of a skilled storyteller. Bashardoust has never let me down and I will continue to pick up anything she has published.
I would like to thank the publisher, Flatiron Books, for not only providing me with a copy of this read and review, but also including me on the blog tour for its release. It is an honor to be able to help promote Bashardoust and her beautiful stories!