Publication Date: March 20, 2018     |     Rating: 5-STARS!!!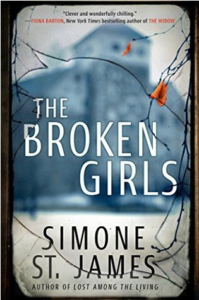 The Broken Girls by Simone St. James is pretty much perfection in my opinion. This book exceeded my expectations in every way possible. I went into this book knowing two things: prep school for girls/mystery. This book is so much more than that. The novel is replete with a gothic atmosphere that transports you in time and place into the storyline. It is the perfect blend of mystery/thriller with extra special paranormal goodness sprinkled the whole way through!
The main portion of the story alternates back and forth between 1950 and 2014, following different girls/women in and around Barrens, Vermont, and more importantly Idlewilde Hall. I do not want to say too much about the story itself, as I wouldn't want to risk giving anything away to potential readers. Just know this – I put off reading this book for many months. I don't know why – I can't explain it – it just kept getting shuffled down the ole' tbr. Now, I can say, I am physically distraught at not having read this as soon as I got it. Okay – that may be taking it a little far but I do wish I would have picked it up immediately. I honestly do not have even one constructive criticism of this. Because of that this will be a very short review: This book is incredible. This book wants you to read it. This book will keep you up nights after…read it!
Thank you so much to the publisher, Berkley Publishing Group, for providing me with a copy to review. I apologize to you, as well as to myself, that I didn't get to it until now. I am even going to run out and buy myself a copy so that I may read it again and share it with others – I love it that much!