A Time for Murder by Jessica Fletcher
My rating: 4 of 5 stars
**3.5-stars rounded up**
When a young woman seeks Jessica out to question her about the first murder case she ever solved, under the guise of being for her high school newspaper, plenty of memories are drawn to the surface from that time 25-years previously.
Jessica was a young woman herself then, working at a high school in Abbott, Maine, living with her loving husband, Frank, and their nephew, Grady. The Principal at her school ended up being murder and Jessica helped to nab the culprit, or did she?
Once that same inquiring young lady ends up dead, Jessica discovers she wasn't who she was purporting to be. She wasn't a high school student at all.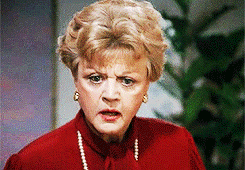 It turns out she may be related to that same Principal who was murdered all those years ago. But why was she choosing now to ask about the case? And are the two cases related?
The plot thickens…
Racing to the conclusion, we follow both past and present timelines, as the cases converge into a wild finish.
It was such a joy to be back with one of my idols, Jessica Fletcher, for this, the 50th installment to the beloved Murder, She Wrote mystery series. As many fans of the series know, the long time author for this series, Donald Bain, sadly passed away in 2017.
The series has since been taken over by Jon Land, a veteran Thriller writer. This is the third book published since he has taken the reins and my first that I have read since the transition.
With this being said, I can definitely tell a difference in tone since the change and although it is different, I do not dislike it. I will continue to read the series as long as they are being published.
If you are looking for a fun, quick and cozy mystery series with no shortage of volumes to pick up, I highly recommend this one!
Thank you so much to the publisher, Berkley Publishing Group, for providing me with a copy to read and review! It really was such a pleasure. Keep them coming!