Hi everyone! Wow – it has been a while since I have posted anything! I do have a backlog of reviews I need to get to at some point but alas, today is not that day. Today I have decided to do the 'Last 10 Books Tag' that I first came across on Tom's channel @TJReadstheStars on BookTube ( go to the video by clicking on this link>> TJ Reads the Stars >>while you are there be sure to give him a like and subscribe! ). The tag was originally created by Marc Nash. Let's get into the questions, shall we:
1. The last book you didn't finish? The last book I did not finish (or DNFed in book talk) was Blood Will Out by Jo Treggiari. I received this as an e-ARC from the publisher, Penguin Teen, and although I appreciated the opportunity there was no way I could finish this book. It was absolutely terrible. My biggest compliant was the unnecessarily large amount of animal abuse/torture/murder. There are too many wonderful books in the world to waste my time on one that has content that totally disgusts and infuriates me.
2. The last book reread? The last book I reread was In Cold Blood by Truman Capote. I originally read it in high school and although I do remember really liking it, I think I could definitely appreciate it more as an adult. It is an absolutely incredible piece of true crime literature and I recommend everyone read it at least once in a lifetime.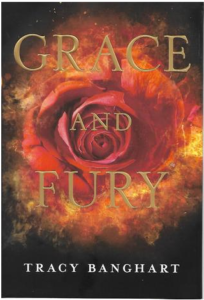 3. The last book you bought? The last book that I received came in my August OwlCrate box. It was Grace & Fury by Tracy Banghart. This is the first book in a new YA Fantasy series which follows two sisters living in a world where women have no rights. One is raised in a palace and the other in a prison. As usual, we received an OwlCrate exclusive cover and I must say, I am loving it! The original cover, I believe, has a girl's face on it and that's fine but…FIRE ROSE! Yes, please.
4. The last book you said you read but didn't? I honestly do not remember ever having done this. Even in school I enjoyed pretty much ALL THE BOOKS.
5. The last book you wrote in the margins of?  End of Watch by Stephen King. This is the third book in the Bill Hodges trilogy, which if you follow me on Instagram, you will know is my absolute favorite trilogy of all time. I ended up writing in some quick thoughts in an area of the book that was talking, I think, about cyber-bullying, or something like that. I had made note about how much society has evolved/changed since King tackled the subject of bullying at school in his very first novel, Carrie. It was a very interesting point he was making, and now because I wrote in my own thoughts, I can easily find it in the book when I want.
6. The last book you had signed? I have never actually gone to an author signing! This is something I definitely want to do at some point. That may be one of my bookish goals for 2019. The last signed book I received however was Grace & Fury. Most OwlCrate books do come signed by the author now which is very special!
7. The last book you lost? The last, and I believe only book, that I lost was one of my copies of Dracula by Bram Stoker. Luckily, that is a book that I own multiple copies of. It is one of my top five favorite books of all time and I actually collect different editions. The one I lost, which I believe I loaned to someone who has since moved away, was the ugly hardback Barnes & Noble edition so I am not too broken up about it, TBH.
8. The last book you had to replace? Wild by Cheryl Strayed. I borrowed it from a friend. I hated it and DNFed it about 70 pages in. My dog ate it. He literally tore that bitch to shreds. So, since I am such a good friend…(wink) I bought her a brand new copy (AS YOU SHOULD ANYONE READING THIS – BOOK MANNERS).
9. The last book you had an argument over?  I don't recall ever getting into a legit argument over a book.  Maybe a discussion but not an argument…I just don't get that heated about it.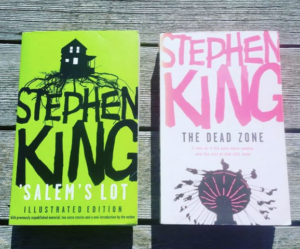 10. The last book you couldn't get a hold of?  So many of the Hodder edition paperbacks of Stephen King works. I am on the hunt for them…always. They are out of print so I endlessly hunt for used copies, mainly via Abebooks. I have had some luck – the photo to the left are the first two that I ever found – they came from Kenny's Bookshop in Galway, Ireland (I believe) and they were both in remarkable condition! I shop them all the time now.
That concludes the Last 10 Book Tag! I have so much fun with tags. It just provides a great opportunity to reflect on the books you have read and try to find the best fit for the question. Thank you for reading and if you choose to do this tag, make sure you let me know so that I can read/see your answers! You may contact me through the links on the right>>>
Happy Reading & Cheers~