TGIF bookworms! I hope everyone is having a successful week. It has been a hectic one for me but nevertheless I have made some progress on some of my current reads. I thought I would take a moment to update you all on what I am currently reading and my thoughts so far. As many of you know, I am an unapologetic multi-volume reader. I generally read between 6 and 10 books at a time. As of this moment, I am working on 8 books, they are as follows:
1.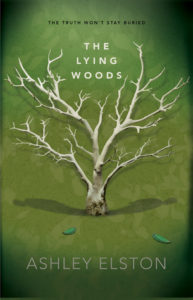 The Lying Woods by Ashley Elston – This YA Mystery book is set to release next Tuesday, November 13th. I was provided an early galley copy from Disney-Hyperion. This was one of my most anticipated books of the year. Some of you may recognize Elston's name from her 2016 release, This is Our Story (spoiler alert: which I am also currently reading). The Lying Woods follows teenage protagonist, Owen Foster, in the aftermath of his Father being exposed as a white-collar criminal. Mr. Foster steals millions of dollars from his company, the employees, shareholders, etc., and leaves Owen and his mother behind to pick up the pieces of their shattered lives. People in the town are furious, they believe Owen's Mom knew what he was doing and they begin threatening her and Owen. Forced to leave his posh private school when they can no longer afford the tuition, Owen returns to his hometown public school and is humiliated daily by other students whose parents were victims of Mr. Foster's theft. Owen vows to learn more about his Dad and hopes to find at least a portion of the money to return it to those it was stolen from. I am currently 68% through with this book and am absolutely loving it. Elston's writing is smooth and organic. The way this is formatted, portions from Owen's perspective and portions from the perspective of his father as a teenager, is unique and I am enjoying the insights into his father's life. I am planning to finish this one in the next couple of days and would highly recommend this to fans of YA Mystery and/or YA Contemporary.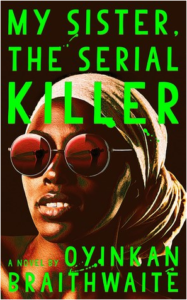 2. My Sister, the Serial Killer by Oyinkan Braithwaite – This very short Adult Thriller novel is part slasher book, part satire. Set in Nigeria, this story follows Korede, a nurse, who is bitter about always being the one who has to pick up after her little ((and beautiful)) sister, Ayoola, who is, you guessed it, a serial killer! When we first meet Korede she is helping Ayoola with her latest 'mess'. Later she marvels at how her perfectly cute sister seems to feel no remorse after what she does. I actually just started this today, so am not too far in, so far I am liking Korede's voice and I am excited to see where exactly this is going to go. Published by Doubleday Books, this is set to release on November 20, 2018.
3. Abandoned (Max Revere #5) by Allison Brennan – Investigative reporter, Max Revere, sets out to solve a cold case very near and dear to her heart, the disappearance of her mother, Martha Revere. Abandoned by her Mom around the age of 9 or 10, Max was left in the care of her very wealthy grandparents. Now aged 32 and a successful television personality and author who investigates cold cases, Max is finally ready to uncover the truth. There is so much going on in this book: family drama, small town secrets, art theft and forgery, con-men and women – it is so good! Lately I have been dedicating a lot of time to this and am about 75% of the way through. This is actually the first book I have read in the Max Revere series and I don't think that has diminished my enjoyment for this book at all. You could definitely pick this up as a stand-alone novel if you wanted. I can say after reading this much, I am interested in reading the other books in the series. I actually received this as an ARC from the publisher, Minotaur Books, but ran out of time to read it before its August 14, 2018 release date. I am really glad I kept it on my TBR list though and picked it up now. I usually do enjoy thrillers where the protagonist is a journalist but this one is especially well done in my opinion.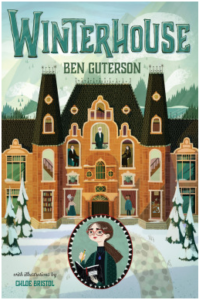 4. Winterhouse by Ben Guterson – Orphan Elizabeth Somers is being raised by her absolutely dreadful Aunt & Uncle in London. Seriously, these people could give the Dursleys a run for their money. One winter break, they inform Elizabeth that she is going to stay at the Winterhouse Hotel without them. This seems very mysterious as Elizabeth knows there is no way they can afford to send her to the lavish Winterhouse. Without much choice however, she heads off and gets herself checked in for a two-week holiday. The people at the hotel were definitely expecting her and strange things start happening pretty much right away. This Middle Grade novel is absolutely enchanting and delightful. There is so much mystery surrounding Elizabeth's stay and the Winterhouse hotel itself. There are riddles and mysteries aplenty. I am really enjoying this one and am sad I put it off this long! I received this as an ARC from Henry Holt & Co., but as sometimes happens, I didn't get around to it prior to its January 2, 2018 release date and then just kept putting it off. ((I am getting better at this, I promise!)) This book gives me total Matilda meets the Series of Unfortunate Events vibes and I would definitely recommend it for all Middle Grade readers over the holiday season! BONUS: There are super cute and creative illustrations throughout!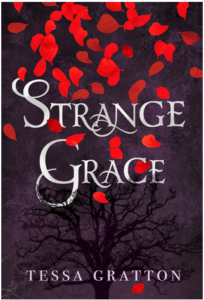 5. Strange Grace by Tessa Gratton – This YA Fantasy is horrific and beautiful at the same time. The writing in this has such a deep magical quality that I feel like I am reading an old school fairytale. Set in the town of Three Graces, that once made a pact with the devil, young men must sacrifice themselves anytime the Slaughter Moon rises by 'running' into the Devil's Woods. The sacrifice of the best young man among them guarantees the safety and prosperity of the entire town. No one gets sick, crops are healthy and full, animals stay plump and provide a rich bounty, and so on and so on, until one day, the Slaughter Moon rises early. Rhun Sayer has always been assumed to be the next one among them to run into the Woods but his two closest friends, Mairwen and Arthur have other plans in mind. This book has some deep levels of exploration into different types of relationships and gender identity that are unique and so far ((I am 45% through)) very well done. This is a 'cool' book, to put it mildly, and I am really glad I picked it up in the Fall, as the Autumnal vibes are on point!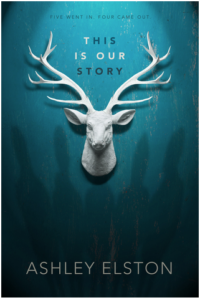 6. This is Our Story by Ashley Elston – Another YA Mystery penned by Ashley Elston, this follows our protagonist, Kate Marino, a senior in high school and an intern with her local DAs office. The current case is that of four wealthy young men, dubbed The River Point Boys, who went on a hunting trip…well, actually, five boys went on the hunting trip but only four came back. They're the talk of the town and the biggest case to hit the DAs desk probably ever. Kate becomes immersed in the investigation , she knew one of the boys and desperately wants to find out what happened and why. But the boys, and their wealthy parents, are covering for one another and won't go down without a fight. When a secret is revealed, what Kate thought she knew is turned on its head and she is left reeling. With well formed characters and taut prose, Elston is proving why she is one of my latest 'autobuy' authors. If you love YA & Mysteries, do yourself a favor and pick up one of the books written about here…or both!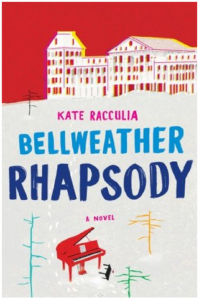 7. Bellweather Rhapsody by Kate Racculia – This is one of the oldest books on this list, published in 2014, that I have actually owned for about three years and randomly decided to pick up. I bought it originally because it follows an oddball cast of characters at a Statewide Music event set in a large old hotel reminiscent of The Overlook Hotel from The Shining. The best kids in the state in orchestra, band and chorus, come together for a weekend long cram session of rehearsals and performances to prove who is the best of the best. This is an odd fact about me but I love stories that involve classical music in anyway. Strange I know. Blame it on my years playing violin and piano. I have been really pleasantly surprised by this book. There is a lot of mystery and thrillery vibes to this and it reads just like a Wes Anderson film. The 'voice' of the book is smart, unique and definitely keeps me turning the pages. I am glad that I finally decided to give this one a go!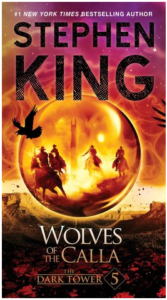 8. Wolves of the Calla (The Dark Tower #5) by Stephen King – My journey to the Tower continue with this, the 5th installment, in King's epic fantasy The Dark Tower series. Roland and his ka-tet are still following the path of the beam and piecing together pieces of the puzzle of how best to protect the rose and the tower from the forces of evil. Spanning different times, worlds, cultures, lifestyles, storylines from other King's work, this series is vast enough to literally boggle the mind. How the heck did he come up with ALL OF THIS whilst also writing so many other damn novels? It's bloody brilliant and I'm obsessed with it all. I have 80 pages left in the 960 page tome and cannot wait to immediately pick up Book #6, Song of Susannah! There is not too much I can say about this book that anyone who hasn't read the first four books in the series would understand, so just know this, reading this series has been such an enjoyable journey for me and I cannot wait to wrap it up and then read it all again someday!
That's it folks! Those are the eight books that I am currently reading. What are you currently reading? Have you read any of these or plan to read any of these? I want to know! Feel free to leave a comment below or contact me through any of my social media links.
Cheers & Happy Reading!