Hi bookworms! Since it is day 3 of Spookathon, I thought I would provide a quick update on my reading stats thus far. As I had initially anticipated, I have had to switch up my TBR for the week a tiny bit. Basically, I want to be able to complete all 5 challenges but realized after day 1 that I would never be able to get to 5 physical books. Because of this, I decided to pick up an audiobook to complete one of the challenges.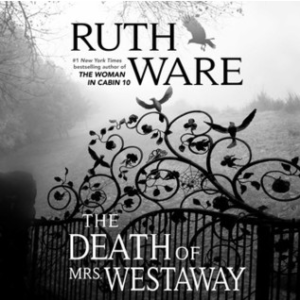 I chose, The Death of Mrs. Westaway by Ruth Ware, to complete the 'read a thriller' challenge. If you read my earlier 'Spookathon TBR' post, you may remember that initially I had wanted to read Baby Teeth by Zoji Stage. However, that is NOT happening. I just won't have the time. Now, I did read another Ruth Ware book a few weeks ago, The Woman in Cabin 10 which I rated 3.5-stars. While there were moments I did really like, there were also a lot that were mediocre at best for me. The Death of Mrs. Westaway is her latest book having released in May of this year and I have heard a lot of good things about it.
As I felt with The Woman in Cabin 10, this one also started out a little slow for me but I am over 1/4 of the way in now and it is really starting to pick up. In this one, our main character, Hal (short for Harriet) receives a mysterious letter that her Grandmother has passed and she is set to inherit a vast sum of money. Problem being, they have the wrong Harriet Westaway, as both of Hal's Grandparents passed away years ago. Being in dire straights financially, Hal decides to take the risk, to travel to the funeral and attempt to impersonate this other Harriet Westaway. I am just to the portion of the book where, the funeral being over, she has traveled back to the manor house and is just meeting with all of the remaining family. Lucky enough for her, the woman whose daughter she is supposed to be is dead and was estranged from her family anyway so no one is yet privy to her deception.
Yeah, so I am liking it so far and cannot wait to see where it ends up. I have about 10-hours left on the audio so a lot of book left to go. We'll see. I am predicting at least a 4-star for this one, perhaps and hopefully, higher.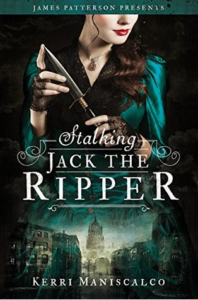 I am also currently reading, Stalking Jack the Ripper, by Kerri Maniscalco. This I had on my original tbr to meet the challenge, 'read a book not set in our time period'. As this book takes place in Victorian London during the time of the infamous Jack the Ripper killings (1888), it perfectly meets that prompt. As luck would have it, and unbeknownst to me prior to opening the book, this also completes the 'read a book with pictures in it' challenge, as it has creepy old photos of London, crime scenes, medical abnormalities, etc. I am always a fan of killing two birds with one stone so I was very pleased to make this discovery. I started Stalking Jack the Ripper on Monday and have just over 50-pages left so may actually be finishing it tonight!
Tomorrow the plan is to start The Wicked Deep, by Shea Ernshaw, to complete the 'read a book with a spooky word in the title'. On Friday or Saturday, I will start Toil and Trouble: 15 Stories of Women & Witchcraft, which will complete the 'read a book with purple on the cover' as well as being the 'group book' for the readathon. I know there is no way I will finish Toil & Trouble by the time the readathon ends on Sunday but I am going to give it the old college try anyway.
That's it for now fellow worms! What are you all reading this week? Leave a comment below or contact me on any of my social media platforms – links to the right>>>>
Cheers and happy reading!