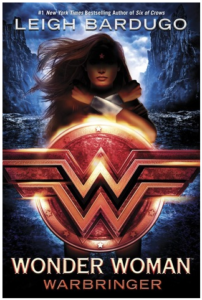 Publication Date: August 28, 2017    |    Rating: 4-stars
Wonder Woman: Warbringer was a wonderful adventure story following Diana, aka. Wonder Woman, as she navigates her journey of self discovery from the isolated island of the Amazons to modern-day NYC & Greece! Along the way she learns a lot about herself, about life, friendship, love, loyalty and ass-kicking. I thoroughly enjoyed this book – I felt it had just the right amount of action, turmoil and humor. This is actually the first book I have ever read by Leigh Bardugo (I know…gasp…hiss) and I was really impressed with her writing style. The flow and pace are spot on for my tastes and I think she did a fabulous job of creating an original story for a well-loved action figure. Side Note: I did listen to the audiobook for this one and thought the narration was excellent!
This is the first book in the DC Icons series, the 2nd being Batman by Marie Lu and the 3rd will be Catwoman by Sarah J. Maas releasing later this year. I think this whole series is such a great idea and wonderful marketing/exposure for DC! As a child of the late-70s – 80s, these types of action heroes were a big part of my childhood so this whole series has a nice nostalgic feel for me. I plan to buy them all as they come out and would recommend them to anyone who ever had any love for these characters. The modern spin is really entertaining and great way to escape life for a while!
Are you a fan of comic book heroes? If so, who is your favorite? Have you, or do you plan, to read these DC Icons books? I want to know! Leave a comment below or contact me via social media (links to the right!)