While We Were Dating by Jasmine Guillory
My rating: 4 of 5 stars
While We Were Dating is the sixth book in Jasmine Guillory's Adult Romance series, The Wedding Date.
If you are unfamiliar with this series, they are all companion novels with some connecting characters. You can read them in any order, or as standalones.
In this installment, we follow Ben Stephens, who is the younger brother of Theo Stephens, the leading man of The Wedding Party.
Ben, who is known as a bit of a ladies man, works for an ad agency. When he is sent to pitch an important ad campaign featuring movie star, Anna Gardiner, he's nervous.
Turns out, he had nothing to worry about. Ben is charming and he knocks it out of the park; making a great first impression with Anna.
Anna is at a turning point in her career. She is popular and well-known, but she really wants to get to that next level.
She views this ad campaign as a great distraction while she waits for her latest movie to drop. She's anxious about what the reception to her role will be, but she remains hopeful that amazing things will come from it.
After Ben's company wins the campaign, Anna makes sure Ben is the lead on the project. He could be just the right kind of distraction she needs.
Anna generally doesn't mix business with pleasure, but there's always room for exceptions.
Due to an unusual set of circumstances, Ben and Anna spend quite a bit of one-on-one time together and their light flirty banter quickly evolves into something more.
As the two are forced into a bit of a fake-dating relationship in order to aide Anna's image, the lines blur even further. Is it real, or is it not? It's so hard to tell in Hollywood.
I had a lot of fun with this one. I enjoyed Ben and Anna so much. Both of their characters worked for me and their banter together was adorable.
As with the earlier books in the series, I appreciate how Guillory included some important real life issues. Her characters are never just laser focused on love and romance. They always have issues they are working through and for me, I feel like they always grow in a satisfying way.
In this one, Anna's celebrity was interesting to read about. I think frequently about how anxiety-inducing it must be to live that sort of fishbowl lifestyle. It must be challenging and exhausting to separate who you really are from all that constant chatter.
Ben is a breath of fresh air in Anna's life. He's a sincere person, who having worked in the past as a back-up dancer, is used to the buzz and craziness that comes with the entertainment business. He doesn't get blinded by all that. He just sees Anna.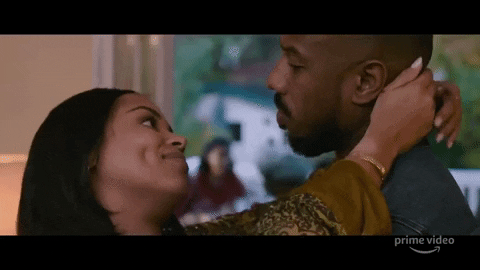 While I felt this one was wrapped up a little abruptly, I'm still very happy with the ending. My heart is full and I've got a big ole smile on my face!
Thank you so much to the publisher, Berkley Books, for providing me with a copy to read and review. I will definitely continue to pick up anything else Guillory chooses to write. She's got her own style and I'm here for it!