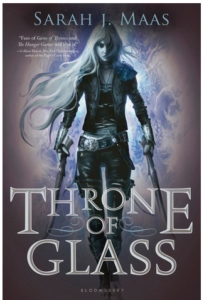 I went into this book with all sorts of assumptions. Well, you know what they say about those. I learned about this book (and the author) through the bookstagram community on Instagram. I was seeing it everywhere! Finally, I caved. I bought my very own copy of the book and began to read it pretty much right away once I received it. By the time I was 100 pages in, I had ordered the next two books in the series.
The protagonist, Celaena Sardothien, is an 18-year old assassin. Sure, we don't have much in common but I love her. I find her very relatable and the whole time I am just cheering for her to succeed. There is fabulous world building in this book and the cast of characters if vivid with plenty of people to love and people to hate.
Celaena is tossed into a competition where she is up against some of the strongest, most dangerous men in all the land. She certainly holds her own and then some. I love when there are competitions in books – to me, it speeds up the pace and provides a whole Team Us versus Team Them atmosphere. There are also mystical elements to this book that were very well done.
I am very excited to move on with this series and so happy that 'bookstagram made me buy it!'