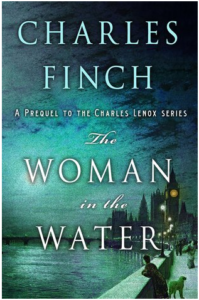 Publication Date: February 20, 2018
My final rating is 3.5-stars for this book. The Woman in the Water is a prequel to the Charles Lenox Mysteries series, of which there are currently 10 books. I have read the first book in the series, A Beautiful Blue Death, and enjoyed it quite a bit. When I saw that a prequel was coming out, I figured I would read it before the rest of the series. This was a good book but I did not enjoy it as much as ABBD. For me, the investigative matters were secondary to the rest of the character development and I really think that the murder investigation should have been front and center. I did feel the second half of the book was a lot stronger than the first half and the ending was satisfying.
Prequels to me are either necessary or not necessary. I don't really feel this one is necessary in order to enjoy the rest of the series. I didn't pull too much new information about our protagonist, Charles Lenox, from this that I couldn't have gleaned from the books in the main series. One aspect of this that I did enjoy a lot however was the relationship between Charles and his right-hand man, Graham. I feel that Graham's contribution to Lenox's work and life was really highlighted here and that was nice to see. I also enjoyed the exploration of Charles relationship with his father -some of those details were truly beautiful to read.
Overall, this is a good book, I do enjoy a Victorian mystery, especially with a gentleman detective. However, in my opinion the story could have been stronger if it stuck more to the traditional 'whodunnit' format throughout. I will definitely continue reading the books in the Charles Lenox series! Thank you so much to Minotaur Books and NetGalley for providing me with the opportunity to read this book and share my opinions!
Do you read a lot of mysteries? I have always loved mystery series, cozy or otherwise! They are just so relaxing and easy to get swept away in – I love trying to figure out whodunnit. Leave me a comment with your favorite mysteries – I would love to add more to my never-ending tbr!!