Publication Date: September 20, 2011    |    Rating: 5-heartfelt stars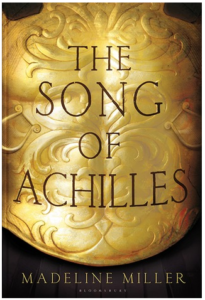 This Story! I decided to read this book mainly because I selected Circe, Miller's second book, as my BOTM Club book a couple of months ago and I really wanted to read this one first. This story took me completely by surprise. I knew nothing about it going in besides that fact that it is based off some events in Homer's, The Illiad. Despite the fact that I took 4-years of Latin in high school, I couldn't tell you the first thing about The Illiad today; so, no spoilers there!
I was completely floored by the absolute beauty of this story. The center of the tale is the love between Achilles and Patroclus. I am not a romance reader AT ALL and oftentimes the romance will be my least favorite aspect of a given story but for some reason…this one…struck me straight in the feels. There was something so pure and confident in their love – they were loyal and brave and kind to one another in a way that had me reaching for the tissues instead of choking down my mirth. I just knew from my level of attachment that this one wasn't going to end well for me. Puddle, puddle of goo, right on the floor. I was overwhelmed by the intensity of feeling this story was able to elicit from my cold, dark heart. The Ice Queen hath melteth.
If you are considering reading this yourself, for whatever reason, I cannot recommend the audiobook enough. This narrator absolutely nailed the feeling of the story – plus, his voices for all characters was just so expressive and was always recognizable for who he was portraying at the time (if this makes any sense at all). In particular, his voice when speaking as Achilles…straight up Chris Hemsworth, which honestly, not a bad picture to have in mind whilst listening to a book.
So, yah, in summation: READ THIS BOOK! The world would indeed be a better place if this book were required reading and I honestly believe that.
Original review: 💔😭😭😭😭😭 oh my gods & goddesses! This book. Those last few lines. I am going to curl up in the fetal position somewhere and stare at the wall for a few days.