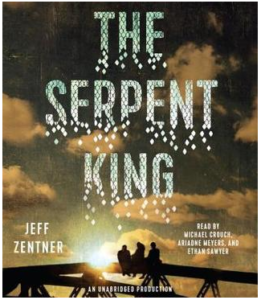 The Serpent King is a YA-contemporary novel that takes place in rural Tennessee and is told from the perspective of three main characters: Dill, Lydia and Travis. Our main characters are seniors in high school and the story mostly follows their daily struggles of breaking out of the molds that parents, and others, have set for them, as well as finding out who they are and who they want to become.
This story is incredibly moving and deals with some heavy topics but all told from an overwhelmingly sensitive voice. I was blown away by the quality and style of Jeff Zentner's writing – this book made me feel so much – it awoke my soul and brought forth every emotion you could possibly imagine. Not only did I laugh out loud but I also cried, real tears, just flowing forth like my heart were breaking – now that is good writing!
I would recommend this story to anyone. I am not a big contemporary reader so was really surprised by how much this book sucked me in. Finally, it is important to note that I listened to the audiobook of this which had three different narrators for the three main characters – it was a fantastically seamless production!