The New Girl by Jesse Q. Sutanto
My rating: 4 of 5 stars
Arriving at Draycott Academy, Lia Setiawan is thrust into a world she is completely unfamiliar with.
Draycott is a super prestigious private boarding school on the West Coast, one Lia can only attend due to the full-ride scholarship she has received to run track.
On the first day, Lia's nerves seem to be getting the best of her. She is like a deer in the headlights amongst all the wealthy, confident Draycott students.
Track practice doesn't get off to the best start either. The other girls seemed more threatened by Lia's incredible speed, than they are happy to have a new teammate.
It doesn't take long before heated words are exchanged and thinly-veiled threats bandied about.
Not all is a loss though. Lia does make a few friends, including a cute boy, Danny, who has a cultural background similar to her own. They share some sweet moments and for a bit, it seems like Draycott won't be all bad.
Lia is never given the chance to get too comfortable in her new place, however. Through a rumor-style app known as Draycott Dirt, DD, Lia begins to be incessantly bullied by anonymous classmates.
It's awful and unfortunately, doesn't stop with online torment. Their hurtful comments and behavior continue into the classroom, with teachers doing nothing to stop it.
The whole school is a complicated, toxic mess, as far as Lia can tell. Even her English Lit teacher is corrupt. Lia suspects he is giving preferential treatment to certain students, while she is close to failing no matter how hard she works.
She needs to pass every class in order to keep her scholarship, but this guy is making it impossible!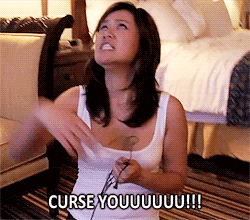 The New Girl follows Lia through her tumultuous first days as a Draycott student. I'll tell ya, there's one hell of a learning curve to this Academy.
Y'all, this book had me transfixed. It is an absolutely bats#it crazy story, but man, did it keep me engaged!!! I had so much fun trying to figure out what exactly was going on in Draycott.
Sutanto has a great sense of humor, dry and a bit sarcastic, and even when tackling difficult topics that managed to shine through. There's a lot going on in this narrative, but it never felt overly heavy or bogged down in details. It still felt fast-paced and intriguing.
There is a lot of intense depictions of bullying, so beware if that is something that could be triggering for you. It's not for me and even I found it hard to swallow at times. It also explores wealth, privilege, classism, racism and addiction.
Even in its craziest moments, I was rooting for Lia the entire time. While I wouldn't necessarily agree with all of her choices, I can appreciate she is just a teen trying to do her best under really difficult circumstances.
She was quite literally stuck between a rock and hard place. She never gave up and I loved that about her character. A lot of people would have thrown in the towel after being treated the way she was at Draycott, but not Lia. It just made her fight that much harder.
I would definitely recommend this book to people who go all in for over-the-top YA Mysteries. Sutanto's got a style all her own and I'm definitely buying what she's selling.
Thank you so much to the publisher, Sourcebooks Fire, for providing me with a copy to read and review. I appreciate the opportunity!