The Loop by Jeremy Robert Johnson
My rating: 4 of 5 stars
Turner Falls, Oregon, is a small town with a big problem.
A local biotech company's experiments seem to have gone terribly wrong, but when local misfit teens start to notice, who is going to believe them.
Y'all, The Loop was a bloody, gritty, gruesome, good time!
Our main protagonist, Lucy, was so well-imagined. I loved reading from her perspective. Smart, witty, and slightly jaded, she found a strength within herself she didn't even realize was there.
Along with her two friends, Brewer and Bucket, Lucy and the boys come face-to-face with the bioengineering gone wrong.
It has gone very wrong indeed. Make no mistake, Johnson does not shy away from gore and general stomach-churning details. We stan.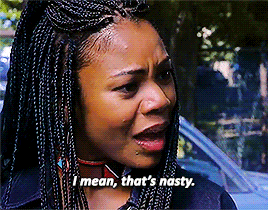 There is also a conspiracy podcast element which I absolutely adored. It was an exceptional device for tying in biting social commentary.
The podcast host was entirely realistic and I thought he was an excellent addition to the cast of characters. I can't imagine the story without him.
The comparison to Stranger Things is understandable, although these kids seem much more mature than the original pack from ST. I mean, obviously there is a big age difference.
However, the overall vibe, is there.
If you are looking for a fast-paced, smart, evil corporation horror thriller…wait, is that a thing?
Yes. It is now and I want more of it.
I had a ton of fun with this. I am excited to read more from this author. I think he made really great choices with how this story unfolded. It was humorous and horrifying, which are two things that go so well together.
Like peanut butter and chocolate. Do not disagree with that.
Thank you so much to the publisher, Gallery Books, for providing me with a copy of this to read and review.
I appreciate it so much and urge any horror lover to give it a shot.