Publication Date: July 3, 2018    |    Rating: 5-glorious STARS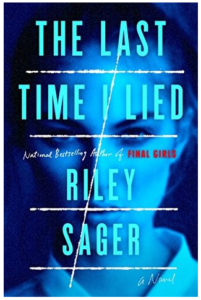 Riley Sager has done it again!! Thrilling from beginning to end. This one kept me guessing until the final pages!
When Emma Davis first went to Camp Nightingale she was late; her parents doing. Subsequently, she got stuck in a cabin with girls much older than herself. Luckily, the pretty and popular bunkmate, Vivian, quickly took Emma under her wing and she began to have a camp experience unlike anything the other girls her age were experiencing. Unfortunately, one night, on the 4th of July, her three cabinmates disappear, never to be seen again. That night continues to haunt Emma, even fifteen years later when we meet her. Now a successful painter living in NYC she continues to meld the haunting images of her camp experience into her work. Invited back to Camp Nightingale by the wealthy owner, Franny Harris-White, to be an art instructor, Emma begrudgingly accepts, thinking she can finally figure out what happened to her friends.
Once Emma returns to Camp she is reunited with many individuals who were also there her first time round; including the handsome Theo Harris-White, Emma's crush from THAT summer. This story is darkly atmospheric and filled with mystery and dread. For me, Sager's writing is so cinematic – as I am reading, the entire drama is unfolding in my mind with the perfect clarity of a movie – I felt the same way with Final Girls. His descriptions and feelings are so easy to follow and imagine and are definitely one of my favorite things about his writing.
As the story unfolds, there are multiple occasions where you think you know what happened all those years ago, but those thoughts are quickly dashed away by new information becoming available. The cast of characters was fantastic and past and present unfolded with such ease and excitement that it made this novel very fast-paced! I have absolutely nothing negative to say about this book – I loved it – would read it again and would recommend to any thriller or horror reader. I cannot wait to see what Sager comes up with next! You better believe I will be waiting for it and buying it on release.
Thank you so much to the publisher, Dutton Press, for providing me with a copy of this book to read and review. It was a highlight of my year for sure and I greatly appreciate the opportunity!