The Last by Hanna Jameson
My rating: 4 of 5 stars
**4.5-stars**
Jon Keller is attending an academic conference at the L'Hotel Sixieme in Switzerland on the day the bombs fall. Nuclear war has broken out and cities all over the world have been decimated. Through early news alerts he learns hundreds of thousands of people have been killed.
Jon's wife and two children are home in San Francisco but he can't really worry about that now, he needs to focus on his own survival. Jon and twenty other survivors hunker down in the relative safety of the hotel and that's truly where our story begins.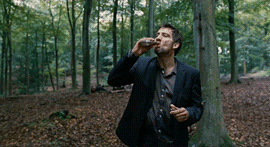 A historian by trade, Jon takes it upon himself to begin writing the account of the survivors and that is how the narrative is told. For me, this worked so well as a way to tell this story. I loved the feel of it and how we were able to learn not just what was going on currently but also a bit of the survivor's back stories, as well as some of the history of the hotel itself.
While opening up the top of some water tanks in an effort to start catching rain water, they find the body of a dead girl. It is clear she ended up in the tank by nefarious circumstances and Jon becomes obsessed with finding out who killed her. He starts a legit investigation and that is how he focuses most of his energy.
Tensions are running high and the survivors begin to form alliances and develop a social system unto themselves. When supplies begin to dwindle and winter is approaching the survivors start to send out mini-expeditions in search of food and other supplies. As you can imagine, these are dangerous undertakings and add quite a bit of tension to the plot.
I had a great time reading this book. I was absolutely entertained the whole time. I felt there was just the right level of tension the whole way through to keep you on the edge of your seat. I loved the exploration of people pushed to their limits and how they would organize themselves in order to function with some baseline of decency.
The last little bit seemed a little rushed to me but I wasn't disappointed with how it ultimately turned out. I would recommend this one to anyone who likes post-apocalyptic stories. This is nice and modern and fitting for our times. Very well done!
Thank you so much to the publisher, Atria Books, for providing me with a copy to read and review. I appreciate the opportunity and look forward to reading more by Jameson in the future!