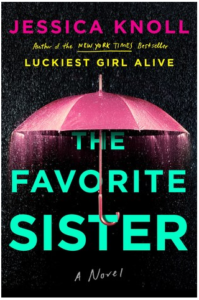 Publication Date: May 15, 2018
My final rating for The Favorite Sister would be between a 4 and 4.5-stars. I really, really enjoyed this. It wasn't what I expected and it is not really the type of book I would normally pick up for myself but regardless, it was a blast to read. Since finishing, I have been thinking about how best to classify this one. We know the world loves to categorize things – as this book definitely points out! I wouldn't necessarily categorize it as a thriller if I were discussing it with friends. I found it more 'contemporary women's fiction' than 'thriller'. There is a dead character, you know that from the beginning and then the narrative fills in, taking you through the events leading up to that death; but I personally didn't feel it was psychologically suspenseful. It was a great character piece; the characters were full of it – ambition and snark galore!
In addition to very strong character development, I loved the overall writing style. It was very modern – full of current pop culture references and slang. I had never read a book that follows a cast of reality television stars…in fact, I don't even watch reality television. The author did a wonderful job of creating a fun and fast-paced novel that actually had a much deeper level of societal analysis; misogyny, feminism, women/women relationships – I ended up being pleasantly surprised by this! The way the author constructed the relationships of these women laid bare a common problem – we are raised, as women, within a society that forces us to view other females as a constant source of threat and competition – statistically, very few women succeed at the levels the characters in this story succeed – so if your friend is succeeding, does that mean there is no room for you too? Maybe I am reading too much into it but I felt this was an excellent expose on the current state of the feminist movement/status of women in American society!
My only negative, and it is a very small one, would be that I felt through the middle it dragged just a little bit. Besides that, the pacing on the front and back-end were both excellent. Thank you so much to the publisher for allowing me to read this book early and to share my thoughts on it. I am really looking forward to this book being released and to reading other people's opinions on it. I think it is going to be well received and I will definitely be recommending it to some friends!