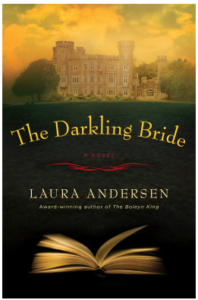 Expected Publication Date: March 2018
*I received an ARC-copy of this book from the publisher in exchange for an honest review.
I would give this book 4.5 out of 5 stars – I had so much fun reading this book! Originally, I went into it thinking, historical fiction, but quickly discovered it is really so much more than that. The book does weave a bit of historical fiction into what is actually more of a modern day murder mystery. The main storyline takes place in Deeprath Castle, a very old (and possibly haunted) castle in the County Wicklow, Ireland, which has been in the Gallagher family for generations. Our protagonist, Carragh, is an archivist hired on to inventory the extensive historical library prior to the castle's potential sale. There she finds not just books but mystery, suspense, gothic settings, a potential love match, long guarded family secrets and an unsolved murder that sees its investigation rekindled.
Throughout the book the chapters shift between present time, the late 1880s and the 1990s. In addition to Carragh, we meet a full cast of Gallaghers, as well as some outside players. I loved this aspect of the book and enjoyed watching the multiple generations of storylines eventually tie together. Many of the characters were extremely likable and I wouldn't mind reading more about them in the future- particularly Aidan and Carragh- I know their stories can't end here!
There is so much to love about this book and I am hoping that many, many readers get to enjoy it as much as I did – a big thank you to Ballantine Books for giving me the opportunity to read and review this book!