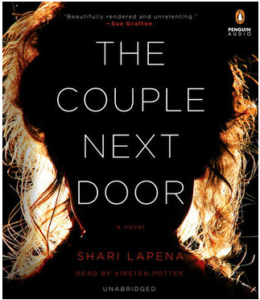 Publication Date: July 14, 2016
3-Stars:  I will get this out of the way up front – I listened to the Audio version of this book. The narrator…let's just say, her style wasn't my favorite as far as narration goes. This being said, I'm not sure how much that ended up affecting my ultimate rating for the book but I wanted to be sure to point it out.
I went into this book completely blind, I had heard a little buzz about it through social media, but really had no idea what it was about. I was completely surprised by the fact that the action kicked off so quickly. There were quite a few twists and turns, places where I thought I had it figured out, moments of revelation, etc., but overall it was pretty bland for me. It was a good book but I really had no feelings for it after it was over. It was a thing that happened, it kept me occupied, told me a little tale and then…that's it. I did not enjoy any of the characters at all – I actually believe one of my mid-book status update comments was, 'every character in this book is an asshole' – so yeah. Bottom line, it was good, it didn't blow me away but it was good. Average.
In other, much more exciting news, I pre-ordered my copy of Stephen King's newest novel, The Outsider, which will be released on May 22nd!!!  Raise the flag, I am so excited to add a new, gorgeous King hardback to my bookshelves.  Check out the cover below – very creepy and cool!