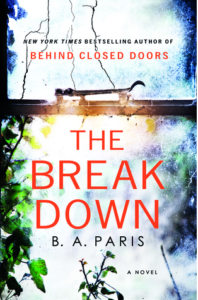 Publication Date: July 18, 2017
5-suspensful stars!!! 
B.A. Paris does it again – the Queen of Manipulation! This book is her second novel and after loving her debut, Behind Closed Doors, I couldn't wait to get my hands on this one. Her writing has a smooth and easy style that is really fun to read. I find her books to be quick and oh so very satisfying! I have loved the endings of both of these books, as well as all the twists and turns that get you there. I literally have felt like I was taking the journey along with her protagonists and at times it can be quite frustrating (but in a really good way).
In this one, our MC Cass, had me yelling at her for the majority of the novel. I was the same way with Grace in Behind Closed Doors. You become so tied up in their lives, thoughts and actions that you feel like they are your friends. Friends that need to be shook to make come to grips with their reality! I very much enjoyed the incorporation of text messages into this storyline as well – it helped aid along as all the puzzle pieces were falling into place. I would recommend this to any reader who enjoys a quick psychological thriller and I will definitely be picking up her new book, Bring Me Back, once it is released in June.
Happy Reading!