Such a Pretty Smile by Kristi DeMeester
My rating: 4 of 5 stars
**4.5-stars**
Lila Sawyer, at 13-years old, is grappling with many things. One of the largest is coming to grips with her own sexuality. This issue is constantly at the forefront of her mind, but there are other things too.
Someone is taking and murdering girls in her area; girls that are about her age. Because of this her Mom, Caroline, has become really paranoid and strict about Lila's whereabouts and movements.
It's more than that though. It's like her Mom knows something about what is going on and she's keeping it, and her entire past, secret from Lila.
It appears that the killer, dubbed The Cur by media, has struck before. Lila hears her Mom talking about it; something about the past, about New Orleans.
Caroline Sawyer is a single-mom and successful artist, whose macabre sculptures composed of artifacts from nature, such as twigs and leaves, is heavily disturbed by the murders of the young girls.
She desperately wants to keep her daughter, Lila, safe. This monster has affected her life before and she can't have it happen again.
Such a Pretty Smile follows the perspectives of both Lila and Caroline; Lila in 2019 and Caroline mainly in 2004. The narrative alternates until past and present slowly begin to merge into one horrifying showdown.
I really enjoyed this story. I found it to be wildly creative, brutal, bizarre and extraordinarily thought-provoking. DeMeester's got a lot to say and she's not afraid to say it.
She's clearly not going to just be quiet and smile pretty. We're here for it.
While I recognize this won't necessarily be for every Reader, for me it was an impressive display of feminist Horror. The biting social commentary, my word, I doff my cap.
DeMeester's writing is incredibly rich with dark, evocative imagery. I was essentially watching this entire story play out in my mind. I loved how she revealed certain aspects of Caroline's past and how that played into their present.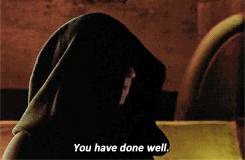 This is the first that I have read from this author, although she has been on my radar for a while. I actually own a copy of her short-story collection, Everything That's Underneath, and definitely plan to pick that up this year.
If you like dark, no-mercy stories, with vivid imagery and brain-rattling social commentary, you should absolutely give this one a shot!
Thank you so much to the publisher, St. Martin's Press, for providing me with a copy to read and review.
This story will stay on my mind for a long time to come!