Stay Awake by Megan Goldin
My rating: 5 of 5 stars
After waking disoriented in a city cab, with disturbing messages inked on her hands and arms, Liv Reese asks the driver to drop her at her brownstone. Once there, Liv realizes she doesn't have her keys. What a night.
She's going to have to wake her roommate, Amy, to let her in. It's not ideal, but can't be helped. Liv is exhausted. She just wants to sleep off the rest of whatever this is.
Making matters even more confusing, she doesn't recognize the couple who come to the door of her apartment. Could they possibly be guests of Amy's?
The woman, in particular, is especially curt and hostile towards Liv. She claims they live there, have for quite some time and have no idea who Liv is, or where Amy could be.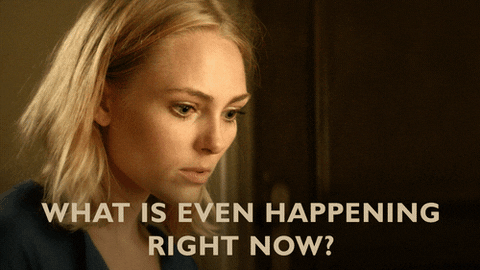 Ejected from the place she considers home, Liv doesn't know where to turn. Then she finds the bloody knife. Every move Liv makes only seems to lead to more questions.
The next day, she heads to work. The last thing she remembers is answering the phone at her desk. Maybe she can find some answers there.
In the office, things are just as confusing. It looks different and she doesn't recognize anyone, but somehow they seem to know her.
Stumbling around the city, trying to piece together how she ended up in this state, Liv catches a news report that shows a murder scene with the same message written on a window as is written on her hands.
She pieces together that the last memories she has are from two years ago. What has she been doing all this time, and more importantly, what did she do last night? Is Liv capable of murder?
Through past and present perspectives, the Reader is clued in to the truths surrounding Liv's memory issues and murky past. The question is, will Liv be able to piece it all together before it's too late?
She's on the run, but she doesn't even realize from what. I'll admit, her story had me panicking at times. It's uncomfortable, but in the best ways.
Stay Awake was one of my absolute most anticipated books of the year and it did not disappoint for a second. I enjoy Goldin's work so much and this is certainly no exception.
This was an insanely-intense, jaw-dropping, mortifyingly-wild ride. Goldin took me on a freaking journey with this main character. Oh my goodness.
In my opinion, this is a perfect Summer Thriller. Megan Goldin delivers again!!!
I was so confused towards the beginning on this story. It really played on my own anxieties, but in a way that was enjoyable. I couldn't help but put myself in the shoes of Liv and wonder how I would handle these circumstances.
It's hard to even imagine!
This definitely had me at the edge of my seat and I loved how it all played out. We also get the perspective of the police investigation to the initial murder.
The way the two eventually blended together was so well done. Goldin nailed it.
An extra-special thank you to the publisher, St. Martin's Press and Macmillan Audio, for providing me with copies to read and review.
I did listen to the audiobook and it was fantastic, including narration from one of my all-time favorite narrators, Imogen Church. I highly recommend that format for soaking in this highly engaging Thriller.