Publication Date: July 31, 2018    |    Rating: 4.5-Stars!!!
4.5-stars! She Was the Quiet One is an Adult Thriller that takes place at a private school for very wealthy kids. Let's get this out of the way real quick – I am absolute TRASH for any story that takes place in a private school or prep school. I went into this book blind and had no idea that this was the type of story this was, so yeah, elated at that.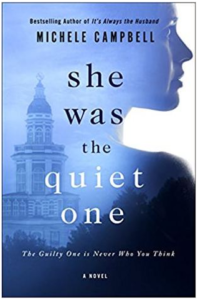 The plot centers around twins, Bel & Rose Enright, who after losing both parents get sent to Odell Academy, a prestigious New England boarding school (aka. playground for the priviledged) by their wealthy Grandmother. Rose, the more grounded and studious of the two, looks at this as a blessing – a place where she can reach new academic heights and strive toward loftier goals than ever before. Bel, the 'wild one', if you will, devastated by the recent loss of her beloved mother is more of a loose cannon and falls in with a group of 'bad girls' almost immediately.
The story also follows a married couple, Heath and Sarah Donovan, who work at the school as teachers and dorm heads. Their marriage is explored in detail and although perfection on the outside, holds its own troubles, resentments and buried secrets. Heath has lofty goals of his own – dreaming of one day becoming headmaster of the school; Sarah the supportive wife is left on the sidelines a lot of time.
Heath and Sarah's relationship is definitely where the adult element comes from, there are a lot of complicated themes woven into this storyline. The interactions between the students at the school, on their own, could fit in very well in a YA Thriller; it's when the adults and kids begin to mix that things become messy. If you are the type of reader who doesn't enjoy teenage drama, you may find this one tedious, so just know that going in. There is bullying, hazing, general romantic drama but for me, it absolutely worked.
In my opinion, this wasn't wickedly suspenseful – it was more that things began to unravel before our eyes at a steady pace until the final scene. I loved the format of it – which mixes in detective interviews…okay, back up…a crime has been committed, you do not know to who or by who and that is what is revealed throughout the entire story. It was really well done and I applaud the author for keeping the pace steady and engaging the whole way through!
I would recommend this to anyone who loves Adult Thrillers and I also would recommend this to readers who may be looking to transition from more YA books to Adult books, as it has elements of both. I would however say trigger warning for sexual assault, hazing, bullying and unlawful sexual contact. If these are topics that you are sensitive to please be aware before going in.
Thank you so much to St. Martin's Press for providing me the opportunity to read this book and provide my opinions. I had so much fun with it and definitely plan to pick up Michele Campbell's other book, It's Always the Husband.