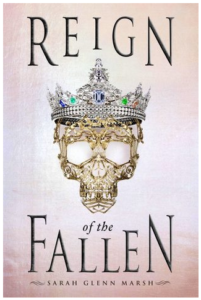 Expected Publication: January 23, 2018
Oh my goodness did I love this book! I just finished my e-ARC this morning and am so excited about the fact that I have already completed one book this year that is an early contender for 'my favorite book of 2018'! Reign follows the story of a strong, independent female protagonist named Odessa who is a master necromancer in the kingdom of Karthia.
This books starts out quickly and in my opinion really never lets up. I read it so fast, racing to the conclusion – throughout the course of the story my pulse was raised many times, my heart crushed and my spirits soared over a full range of emotions. The magic system is very cool – I loved the necromancers, healers, beast masters, royals, etc. – and the world creation was vivid and believable. The characters were very likable (I have a few different faves) and the Shades (the monsters of our tale) scary enough to keep you glued to the pages. I would recommend this book all day long to anyone who loves YA fantasy and look forward to seeing what new horizons will await us in Book 2!!! A big thank you to the publisher, Razorbill, for giving me the opportunity to read this book early!
Has anyone else finished any fabulous new books this year? I have a strong feeling 2018 will be a great year in all things book!
Happy reading friends  : )
*Please note, I was given a free copy of this book in exchange for an honest review.