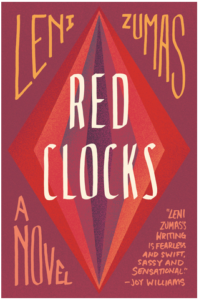 Publication Date: January 16, 2018
Bold, topical and completely riveting! Red Clocks took hold of me from the very beginning and never let up. It is honestly like nothing I have ever read before and is hard to describe, really. I received Red Clocks after making it my January 2018 Book of the Month Club selection. Hot on the heals of the recent success of The Handmaid's Tale being adapted into a television series, readers every where have been prepared for a surge of feminist literature. This book is one of the most buzzed about new releases of that genre. I had to check it out and cannot express how happy I am that I did!
The novel follows 4 women (plus a historical 5th) who are all connected to each other through community and womanhood; these characters all grapple with difficult choices based on their sex/sexuality. I went into this book thinking that it was set in some sort of futuristic, dystopian world but it isn't; it is very much a present day story but set up and delving into the possibilities of how very different our society could be if just one or two laws pertaining to female reproductive choices were changed. It was very raw, very real and not shy at all about challenging, often controversial, topics. I can definitely see a subset of folks who will not enjoy this book at all (although I haven't seen any of those reviews yet).
If this is the quality of product we receive in a debut novel from Ms. Zumas, I cannot wait to see what else she has in store for us. She shows such courage in bringing this story to us. I am definitely a fan of her work and will be reading any other books she may publish in the future. Bravo!