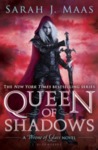 Queen of Shadows by Sarah J. Maas
My rating: 5 of 5 stars
Wow, okay. This. Book.
This was so good. I have been enjoying this series very much up to this point, don't get me wrong, but in my opinion this one takes it to the stratosphere. Whole new level here. I won't make this too long as there probably isn't much that I can say that would be new at this point. I will just let y'all know how this one made me feel and that would be freaking psyched. I am such trash for this series now – fangirling all afternoon long after I finished this. SJM is my Queen and I will read every single word she ever writes.
Seriously though, I felt that this developed the story so incredibly well. I loved the relationship development in this one and I don't mean that in the romantic sense. For me, it was more the friendships, the loyalties that develop as these characters are basically pitted against the most evil forces in the universe; it was just a gorgeous, gorgeous thing.
Lysandra – my new love. Her story arc is just astounding – to see her strength, which obviously has always been there, but to see it come out and her assert herself and kick some serious ass was just so great to me. I loved hearing her backstory, learning her motivations, discovering her secrets – I can't wait to see where her story goes in the next book. And of course, Manon, my book-BFF, so fierce and such a powerful bringer of change -I just adore her and pretty much every scene where she was even remotely involved in gave me LIFE!
I am very excited to get to Empire of Storms but I am going to take a one book hiatus before I start it because I do not think I am emotionally ready to move on yet. Still so much to process. I am beyond happy that I gave in and read this series; probably one of the best book choices I have ever made. Highly, highly recommend to all the world!
Original review: Chills. That was incredible! Full review to come. . . Stay tuned!