Publication Date: September 12, 2017    |    Rating: 5-STARS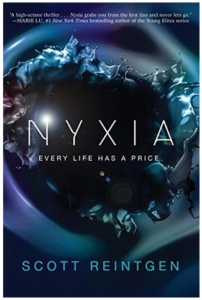 It just occurred to me that I never wrote up a full review for this wonderful book! I am currently reading the 2nd book of this planned trilogy, Nyxia Unleashed, and went back to see what I had written in regards to the first book and alas, NOTHING! I think this was one of those books where I needed to process for a bit after I finished and than never ended up compiling those thoughts into an actual review. It's a problem I am sure many of you have experienced.
This book is set in 'our world' in the near future where this huge corporation, Babel, selects ten teenagers to go to space and compete for a chance to be sent to the planet of Eden to mine a new miracle substance called, nyxia. The characters are very diverse, coming from countries all over the world, and the competition is fierce. The author, who is a teacher, writes teens very well in my opinion. The dialogue felt natural and how they relate to one another is spot on considering the circumstances they find themselves in. The main character, Emmett Atwater, is a great character. I had no problem becoming attached to him and was rooting him on from the very start.
Competitions in books are one of my favorite tropes. I am a competitive person (hello, Slytherin!) so I absolutely adore and relate to reading about competitions – the training, the mentors, the challenges…yep, love it all. These kids go through very vigorous training that at times is downright dangerous. They have so much to prepare for after all; being sent onto alien soil, that is in fact inhabited by aliens; dangerous ones according to Babel. A lot of the training takes place in VR (virtual reality) which adds a super cool gaming element to it as well! If you have been seeing any buzz for Nyxia Unleashed and wondering if it is worth tracking down the first book and starting this triad, I would say YES! It definitely is. I would highly recommend this book to anyone who loves a great, action-packed science fiction story; particularly with YA characters – great for readers of ALL ages!
What is your favorite trope to find in books? I want to know – leave a comment below or reach me through my contact links!  Cheers~