Publication Date: June 12, 2018    |    Rating: 4-gritty STARS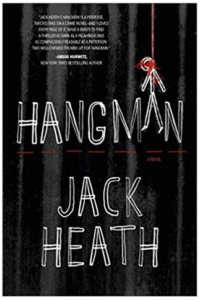 WICKEDLY entertaining~ Sherlock Holmes meets Hannibal Lecter!!! I really enjoyed this one. It is so bizarre in theory but somehow it just works. Let me break this down: our main character is a cannibal (you read that right…a cannibal) who ends up making a deal with an FBI Agent that he will help with investigations in exchange for free bodies from death row inmates. Why? Why would an FBI Agent want this man working with him you ask? Well, the guy is a freaking genius of course! A modern day Sherlock Holmes with a photographic memory who obviously can see into the minds of criminals because, well, he IS one…oh, and of course, the cannibal knows about the Agent's coke habit… Intrigued yet?
I would recommend this book to ANYONE who loves a new twist on the thriller genre. Obviously, you need to be a open-minded with the whole concept behind this but I tell you, that Timothy Blake (our MC) is pretty lovable. Honestly the first cannibal I have ever rooted for in a novel. But in addition to the weirdness of it all, this is actually a really taut crime thriller. There were a few times that I was convinced I knew what the answer was to the string of kidnappings that Blake was trying to unravel, but in the end, I turned out wrong every time and was surprised by the reveal. The writing style was fast paced and the mystery well developed. It's definitely dark and gruesome, so if that is something you aren't into, best to stay clear of this one!
Thank you so much to the publisher, Hanover Square Press, for providing me with a copy to read and review! I really hope that this becomes a series. I would hate to think that this is the last I am ever going to see of Timothy Blake. There's more to his story, I can just feel it! I look forward to hearing other opinions on this book as well. If you have read it, what did you think??