Good Neighbors by Sarah Langan
My rating: 4 of 5 stars
**4.5-stars**
Welcome to Maple Street. Located in a Long Island suburb, it's a setting we all know.
That picturesque cookie-cutter neighborhood where all the kids play together and everyone knows each other's business; bad and good.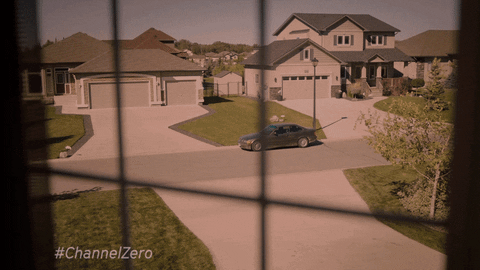 The Wilde family is new to Maple Street and it's clear from the start that they don't necessarily fit in.
Arlo, the man of the house, is a has-been rocker who, gasp, has tattoos.
His wife, Gertie, is an ex-beauty queen who dresses trashy and speaks with an accent. As sweet as she is, anyone can see she's a hot mess.
Then there's the kids. Julie, the preteen daughter, stole a pack a cigarettes when they first got to the neighborhood and showed the other children how to smoke. The little boy, Larry, carries around a doll!
When the Queen Bee of Maple Street, Rhea Schroeder, seems to take Gertie under her wing, the rest of the neighbors chill a bit. If the Wildes are good enough for Rhea, they must be good enough for them.
Seemingly out of nowhere, however, Rhea begins to snub Gertie and her family.
The main confrontation occurs at a block party and during this very party, a sinkhole opens up in the neighborhood park, sending residents scurrying to the safety of their respective homes.
It's utter chaos.
The tension continues to mount on the street in the days that follow. Rhea's daughter, Shelly, who has been told not to talk to Julie Wilde any longer, defies her Mom and confesses a dark secret to Julie.
This dramatic conversation ends with Shelly falling into the sinkhole. Lost to its dark depths.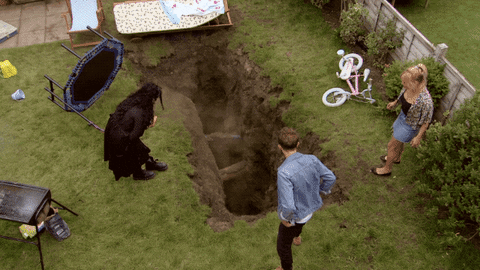 Some crazy accusations are thrown around after this event and the target is, unsurprisingly, Arlo Wilde. Thus creating a boogie man to focus their anger and fear at. The infamous other.
Reading Good Neighbors was like peeling back the layers of a very quirky onion. I was so impressed with this!
The Wilde family, by moving to Maple Street, were hoping to provide potential upward mobility for their children. They had the best of intentions and although not perfect, were good people doing their best.
The reaction of the neighbors to them was absolutely fascinating and in a depressing way, 100% realistic.
Langan incorporated a lot of mixed media aspects into the telling of this story, which I loved! I always think that is a fun way to add energy into a storyline.
It is set in the not too distant future and the sinkhole, as well as a few other details, were clearly caused by climate issues. I liked how that was a backdrop, but none of the characters acknowledged it. So, like I said, real.
I also really enjoyed the group of kids in the neighborhood, coined the rat pack.
Sure, they weren't perfect. There were some real assholes in the bunch, but when things were at rock bottom, they were the ones that banded together, showed some courage and solved a problem. All while their parents hid behind their closed doors and gossip channels.
Additionally, I really enjoyed the unconventional narrative style.
It felt like a season of Desperate Housewives if it were directed by Wes Anderson; and yes, at least one of the Wilson brothers would have been in it.
Thank you so much to the publisher, Atria Books, for providing me with a copy of this to read and review. I really enjoyed my time with it.
It's actually one of those books, that the longer I sit with it, the more I appreciate it.