Ghost Wood Song by Erica Waters
My rating: 5 of 5 stars
**4.5-stars rounded up**
Mood. This book is a mood and I loved it!!
Shady Grove is a fiddle-playing high school girl, who has been struggling a bit since her father's untimely death.
Her mother has since remarried and her step-dad, Jim, has a contentious relationship with Shady's older brother, Jesse. This makes life at home far from peaceful.
Shady finds respite practicing her fiddle in the woods surrounding their trailer. At least for a while.
She's also in a band with her best friends, Sarah and Orlando. While Shady enjoys playing with them, she really wants to play just bluegrass, the music she was raised on, but they have a different opinion; especially Sarah.
Making matters worse is the fact that Shady and Sarah were an almost couple. It never ended up happening and now it feels like there is a giant elephant in the room every time they are together.
When they compete in an open mic night and a boy in a rival band catches Shady's eye, it seems like things may finally explode with Sarah.
Shady hardly has time to focus on that however, when something much more serious happens.
Her brother, Jesse, gets arrested; accused of murder.
Shady recognizes her brother has a temper and he admittedly, hasn't been in the best place mentally as of late, but she also knows he could never do this.
Remembering the stories her father used to tell her, how he could channel spirits by playing his fiddle, Shady decides there's only one thing for her to do.
She needs to find her Dad's old fiddle and raise the spirit of the person Jesse is said to have killed. That way she can ask him what happened to him and use that knowledge to help free Jesse. Sounds fairly simple, right?
This novel has so many elements that I traditionally love.
There's the storyline featuring music and musicians, a murder, a haunted old farmhouse, long-buried family secrets, a beautifully-constructed love triangle for our bi-girl protagonist and a haunting, gritty setting.
Tie all of this together with Erica Waters exceptional writing, how could I not absolutely love this story?
I was drawn in from the very start. Some of her descriptions of music, what it is like playing music, the way it can overtake your body; gahhhhhh, it was so well done.
The murder mystery was interesting and just added another level to an already intriguing tale.
Additionally, I loved how Waters weaved in the lore surrounding Shady's family and their obviously haunted property. Shady's Aunt Ena was one of my favorite characters.
Then there's the overriding grief that permeates this entire story. It's morose, it's lyrical, it's so many wonderful things.
I do recognize this story will not be for everyone, but for me and my tastes, it was close to perfection. I would respectfully and lovingly refer to this as a type of Hillbilly Noir. It's enchanting and I can't get enough of it.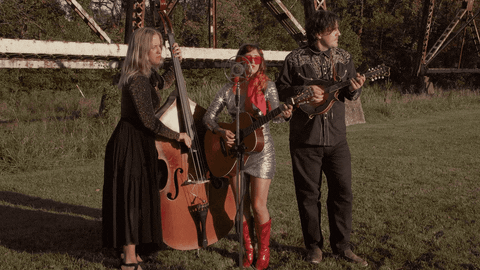 I cannot wait to check out more of this author's work! If I love any of it half as much as this one, I will be a happy girl.