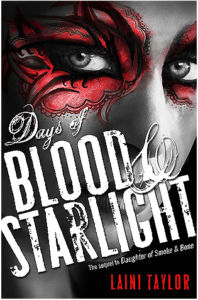 Publication Date: November 6, 2012
4-strong stars for Days of Blood and Starlight.
This is the second book in Laini Taylor's hugely popular Daughter of Smoke & Bone trilogy, the first of which I have reviewed previously on this blog. The good news is, I did enjoy this book a lot more than I enjoyed the first one.
In this book, we find Karou thrust into the role left vacant by Brimstone, her father figure and one of the higher-ups in the Chimera society, and it is one she definitely grows into as the story unfolds. She is suffering with grief and loss and because of this her character is raw and has an overwhelming need for vengeance. I like this Karou. I feel like her finally knowing who she is and what she is allows her to gain more strength than she had in the first book.
We still follow along with Akiva's story as well as he re-immerses himself into the Seraphim regular life – training, fighting, politics – we see it all here and meet a lot more very interesting characters along the way. The world building in this book is really strong. The world we saw in the first book is built upon and built upon in this one until you feel like you are looking at this vast empire of angels v demons. It is truly astounding!
I also like how the romance of the first book really takes a back seat in this one. There is really no 'romance' storyline here in an obvious sense, although some may be lingering just under the surface. This book is packed full of action and you definitely can feel that the whole storyline is rushing towards a final, conclusive battle. We see old side characters reemerge here; including my favorites, Zuzana & Mik. (of note: I am so excited to read, Night of Cake & Puppets, now that I know what it is actually about! This is a companion novel to this series that follows Zuzana & Mik as their relationship first begins.)
I listened to this one, as I did the first, on audiobook and I think the narrator just does a spectacular job bringing this incredible world to life. I have already started the third book and it is even more action-packed, picking up right where the second book leaves off. I am sure I will be shook by whatever the conclusion to this is going to be!