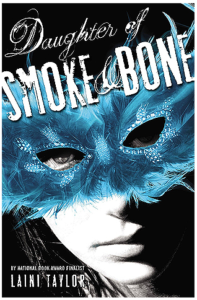 Publication Date: September 17, 2011
Rating: 4-stars (I really liked it) 
Obviously, I am extremely late to the party on this one – I have been hearing for years now how great this book is, how great the series is, how I MUST read it. I finally decided to give it a go (on audio) and I wasn't disappointed…but, I wasn't blown away either. It was good but I think, for me, it fell victim to the hype – I was sort of expecting the best book ever written and although the writing style is gorgeous, the plot was lacking for me, particularly through the beginning. I did feel the second half of the book was much stronger in the 'plot' department and that ending crushed me.
As with other first books of a series, so much character development and world creation can occur due to it being an introduction that it can end up retracting a bit from the actual story. I will say that Laini Taylor's writing itself is very strong. The flow and her choice and use of words is flawless. I absolutely loved that part of it and am excited to read her other series, Strange the Dreamer, as well. I also really enjoyed a lot of the characters, particularly Zuzana and Madrigal. I am excited to move forward with this series and to see what the ultimate outcome will be for Karou. I have already begun the second book, as of this morning, and already feel much more invested in it than I did with the first book!
*As a side note, for the audiobook, the narrator is excellent and I would definitely recommend it in this format!