Conceal, Don't Feel by Jen Calonita
My rating: 3 of 5 stars
**3.5-stars**
Meg's ratings for The Twisted Tale series:
1. Reflection (Mulan): 4-stars
2. As Old As Time (Beauty & the Beast): 3.5-stars rounded up
3. Mirror, Mirror (Snow White): 3.5-stars rounded up
4. Conceal, Don't Feel (Frozen): 3.5-stars
5. A Whole New World (Aladdin): 3-stars
6. Part of Your World (The Little Mermaid): 2-stars
I was greatly anticipating the release of Conceal, Don't Feel, the Frozen retelling of my dreams!
I love the story of Anna and Elsa. There's so much about being true to yourself and being who you are no matter what others think.
The loads and loads of humor and fantastic side characters is another strong selling point for this story.
In this installment of Disney's Twisted Tale series, we are proposed the twist of Anna and Elsa never knowing one another.
In this version, after Elsa's magic harms Anna, their parents give Anna away to a family in the village to raise her. The girl's memories are wiped and they grow up with no knowledge that they even have a sister.
It started out a little slow for me, but did pick up towards the middle and the conclusion was lovely.
Although slightly underwhelming, most likely because I had hyped it up so much for myself, this is still a good book. It was fun to spend some time with all of these dynamic characters again.
After this though, I am very happy the girls grew up the way they did in the movie and not some other version. That was sad enough!
Am I right?!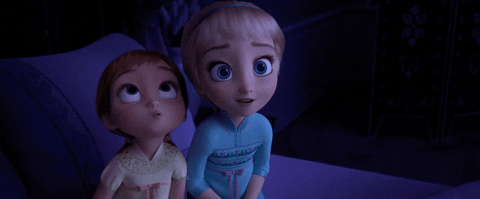 If you enjoyed the movie version of Frozen, you should definitely give this one a shot! Let Anna, Elsa, Olaf and all the rest, take your mind off the world for a while.
You won't regret it!
I love the whole concept behind this series. I am always checking to see what tale Disney is going to twist next!
I am looking forward to continuing on with the rest of the books!