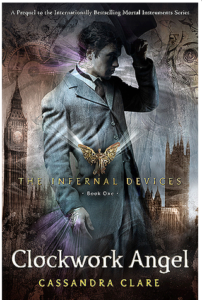 Happy Sunday book loves! I hope everyone has been having a productive, yet relaxing, weekend! I have finished two books so far this weekend -the first being, Clockwork Angel, by Cassandra Clare. This is the first book in The Infernal Devices series originally published in August of 2010.
I was taken aback by how much I loved this book. I have never read any books by Cassandra Clare but after hearing of her everywhere I turned (GR, Bookstagram and Booktube) I decided I needed to try one out for myself. I chose to begin with this series, the prequel to her super popular Mortal Instruments series, because I tend to gravitate towards anything set in Victorian London – a setting I absolutely prefer to urban fantasy (I believe Mortal Instruments could be classified as an urban fantasy). I was immediately swept up into the world of Shadowhunters & Downworlders!  Truthfully, in the beginning I was apprehensive about being able to follow it all (she has created quite the world here) but once the story got into a groove I didn't find that to be a problem. I got way more wrapped up in the characters than I anticipated and have already bought the box set because I know I could read this whole series again (one of my parameters for judging fiction as 5-stars is if I would ever read it again). I am so excited to get going with the second book….I just need it to arrive! So glad I finally decided to give this one a go!
Have you ever been surprised by how much you enjoyed a book? If so, what was is? I would love to hear!
Happy reading!