Hi y'all – it sure has been a while since I last posted.  Life has gotten very hectic and I haven't been reading half as much as I would like.  With summer comes the busy time at my 'real-world' job, plus extra activities with friends and family. I am in the middle of 7 books currently and am hoping to finish at least 5 of them by the end of the month.
One exciting thing I do have planned for my reading life for the summer is participation in my FIRST ever readathon!  This readathon will be hosted by my favorite booktuber (Common Spence – Retellathon Announcement – watch this for additional information) and four other fabulous booktubers: Read By Liv, Wilde Book Garden, Mikayla Tweeting and Lea Bex.
Titled, 'Retell-A-Thon', the purpose is to knock some 'retellings' off our tbr lists.  As I have mentioned numerous times, I adore retellings!  I own a ton of them because I basically buy them anytime a new one comes out…but actually reading them, that's a different story. The dates of the readathon are July 8th through the 15th and consists of 5 challenges. Earlier this week I compiled my tentative tbr – of course, I am a mood reader so all of this is subject to change, and most likely will as the time draws closer: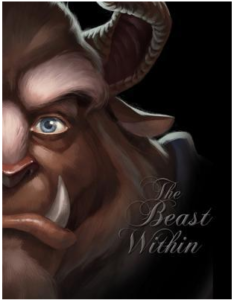 Challenge #1: Love At First Sight (retelling of your favorite fairy tale) – My favorite fairy tale has always been Beauty and the Beast and I own quite a few retellings based on this classic love story. The one I have chosen for this prompt is, The Beast Within: A Tale of Beauty's Prince by Serena Valentino. This is my second Serena Valentino retelling and I am really looking forward to it. This is the story told completely from the perspective of The Beast. One of my favorite spin to retellings is when they are told from the villain's perspective. I am a villain and therefore love villain tales. (I'll let you be the judge of whether this is a joke or not…)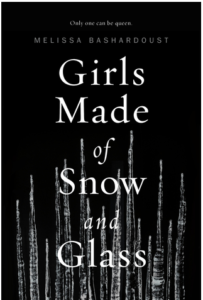 Challenge #2: True Love's Twist (queer or gender flipped retelling) – for this I believe I am going to go with, Girls Made of Snow and Glass by Melissa Bashardoust. Basically, this is a feminist fantasy retelling of Snow White. I believe there is LGBTQ+ rep in this, perhaps a F/F relationship, so hopefully this one counts.  If not, I may switch to And I Darken by Kiersten White, which is a gender flipped retelling of the story of Vlad the Impaler.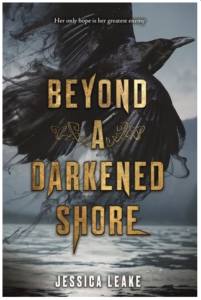 Challenge #3: Faraway Kingdom (a retelling of a fairy tale from your heritage) – for this, I have already switched from my original plan earlier in the week. As heritage goes, I am choosing to go with my Irish heritage for this challenge, which literally became a challenge because I felt like I had read all of the retellings that fit this category…but, alas, I was wrong. I had to go book shopping for this selection but I am SO excited to get it and it sounds amazing (arriving today from Amazon). This is, Beyond a Darkened Shore by Jessica Leake. While not based on a literal fairy tale, it is based on Irish folklore/legends; specifically, from what I can tell the legend of The Morrigan. Quick synopsis, The Morrigan is a goddess figure from Irish mythology that is associated with war and fate, especially with foretelling doom, death or victory in battle. This goddess is a shape-shifter and often appears in the form of a crow or raven. So, in this story, Ciara, our main character, a Princess in the ancient land of Eirinn (Ireland…get it?) is visited by a crow who tells her of threats coming and basically she needs to fight to save her home and her people.  Sounds amazing, right!? I am very glad I found this one – plus there is a crow on the cover which is totally my aesthetic.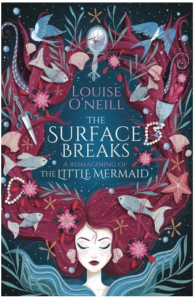 Challenge #4: Under A Spell (read the group book) – The hosts of the challenge selected, The Surface Breaks by Louise O'Neill for this one which I am so excited about.  I had just been looking for an excuse to buy this book because the cover is amazing and it needs to live on my shelves! Rumor has it, that under the dust jacket the actual physical book has a mermaid scale design over the entire thing!  My hearts stops just thinking of it.  This is a Little Mermaid retelling that sounds really fun and cute and I am definitely looking forward to this one.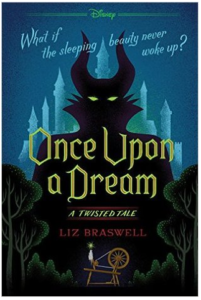 Challenge #5: Unhappily Ever After (retelling with a dark twist) – This is MY challenge, I may read multiples for this if given the time. What I have officially selected for this is from the Twisted Tales series by Liz Braswell. I have previously read another book in this series, a twisted take on Aladdin which was fabulous, but I digress.  My selection for this is Once Upon a Dream which is a retelling of Sleeping Beauty with the tagline: 'What if Sleeping Beauty never woke up?' – um, yep, I am here for this. Not to mention the fact that Maleficent is basically my idol in both real and imaginary life so I am very excited to read a book where she features in a main role!
So, that is it!  That is what I plan to read for 'Retell-A-Thon'.  I cannot even express how happy I am that this readathon has been created.  It is beyond perfect for my reading tastes. I hope it is a wild success so that it may become a yearly event!
Have you ever participated in a readathon? Tips or tricks on how best to tackle it? Let me know in the comments below or reach out to me on social media -links to the right!
Cheers and happy reading lovies!