Hi everyone – Tonight I have decided to participate in the Mid-Year Book Freak Out Tag which has been everywhere bookish in the past couple of  weeks.  It is literally sweeping BookTube!  Since I haven't yet started my BookTube channel, I figured I would blog my responses.  There are 14 questions in this tag so I am going to keep my answers brief, otherwise, I will be writing this all night.  Without further ado, let us just jump into it:
Question #1: What is the best book you have read so far this year?  This is really hard to answer. I have read so many great books this year. I think to keep it simple, I will say, The Shining, by Stephen King. This was a reread for me – it is one of my all-time favorite books and my opinion of it totally did not change when I recently read it again. It is a masterpiece in horror literature.
Question #2: What is the best sequel you have read this year so far?  I haven't read a ton of sequels this year but of what I have read, I have to go with Wizard & Glass by Stephen King. This is the 4th book in his epic Dark Tower series. It tells the backstory of our MC, Roland of Gilead, and was beautifully written. It blew my mind!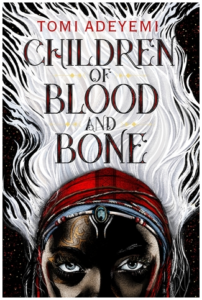 Question #3: What is a new release you haven't read yet but really want to?  Definitely Children of Blood and Bone by Tomi Adeyemi! I pre-ordered this one; it released on March 6th and I still haven't gotten to it yet.  This is the first book in an all new YA-fantasy series that is based on Nigerian folklore. I have heard nothing but great things about it and I can't wait to get to it. Plus, Tomi Adeyemi is such a cute person (seriously, follow her on Twitter) and I am just so happy for her and her success!
Question #4: What is your most anticipated release of the 2nd part of the year? Absolutely for me this would be Wildcard by Marie Lu, which is the sequel to Warcross – my favorite book of 2017. I have been looking forward to this sequel since I closed the final page of Warcross!  Wildcard actually releases on my birthday in September and I will definitely be pre-ordering my copy!
Question #5: Biggest disappointment so far this year?  The Lost Girls of Camp Forevermore by Kim Fu. I received an ARC of this book earlier this year and ended up only giving it two stars. My idea on going in was that this was like a modern-day, gender-flipped version of Lord of the Flies. Nope. Nope. Nothing like that at all. Luckily it was very short, only 256-pages, or I would have DNF'ed it. It was so lackluster and chaotic, I cared nothing for any of the characters and the only joy I received from it was when it was finally over.
Question #6: Biggest Surprise?  I would have to say Foolish Hearts by Emma Mills. This is a YA-Contemporary that I received in my Owl Crate subscription box.  Prior to this, I hadn't been a huge fan of YA-Contemporary but this one was so smart and witty – I had an absolute blast reading it and have been scooping up YA-Contemporary novels left and right ever since!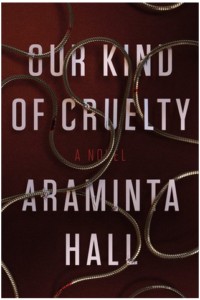 Question #7: Favorite new author (debut or new to you)?  I have read quite a few that could be the answer to this one but I will go with Araminta Hall, the author of Our Kind of Cruelty. This is an adult psychological thriller regarding 'love' and obsession. It was so smart and well-crafted; I adored it and can't wait to read more by this author in the future!
Question #8: Your newest fictional crush?  I really haven't had a fictional crush this year (at least not a new one – still in love with Eddie Dean from the Dark Tower series but I started that last year).  I think out of the books I have read in 2018 so far, I would have to go with Levi Glaisyer from Ace of Shades  by Amanda Foody. He is your typical bad boy, gang leader, living in a city of sin with a heart of gold. Plus he is very attractive, funny and all around swoon-worthy!
Question #9: Your favorite new fictional character?  Hands down Manon Blackbeak from the Throne of Glass series by Sarah J. Maas.  We first come across Manon in Book 3 of the series, Heir of Fire, and I knew right away that she was my twin separated at birth.  Obsessed with her and can't wait to see what her role is as the series continues!
Question #10: Book that made you cry?  The Serpent King by Jeff Zentner. I can't say anything without spoiling the book so just know, it is good.  So, so good. I love this book.
Question #11: Book that made you happy?  Bring Me Back by B.A. Paris – this may seem like an odd selection as it is a fairly crazy adult psychological thriller but it was just so great. The characters, the plot, the twists, the turns – I had so much fun reading it – I raced through and that finish, man…it was awesome!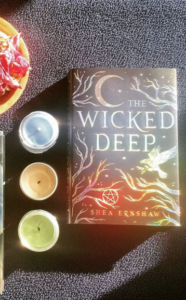 Question #12: The most beautiful book you have purchased this year?  Definitely The Wicked Deep by Shea Ernshaw.  The cover is a rich navy with silver foil lettering and accents that catch the light in the most amazing ways.  I have loved photographing this book for my Bookstagram account because it literally looks different every single time.  Plus the naked hard back has a crescent moon and stars on it which gives all sort of witchy feels.  Obsessed with the beauty of this book!
Question #13: What book do you need to read by the end of the year?  I really need to finish my journey to the Tower (The Dark Tower series by Stephen King).  I am currently on the 5th book in the series, The Wolves of Calla.  So, after that I have two more that I would like to finish up by year's end.  It has been such a wonderful journey – the scope of this series is absolutely amazing and with all the tie-ins from King's other works, it is an absolute must read of any of his Constant Reader fans!
Question #14: Favorite book community member?  Currently, I would have to go with Mr. Common Spence – you can find him on YouTube, Instagram and Twitter.  I watch his videos pretty much the second they go up – they make me so happy – he is just so full of energy and passion for the books he is reading.  He is an absolute joy to behold – be sure to look for him on social media – he definitely deserves all the love!
So, there you go!  My answers for the Mid-Year Book Freak Out tag – now you're it!  Please let me know if you are participating or already have – leave a comment below or find me via my social media outlets (links to the right)!