Hey bookies!  Happy Hump Day (…and I'm already ready for the weekend!) – this has seriously just been such a busy week and I have barely gotten any reading done which makes me sad.  Since I have no books currently to review, I figured I would write a post today showing some love for fierce competitors in books.  I love competitions in books – they are actually one of my favorite plot lines.  Not sure what that says about me but I am Slytherin after all and I can admit to being a fairly competitive person. In addition to the competitions themselves, I also really enjoy the training that oftentimes leads up to those competitions.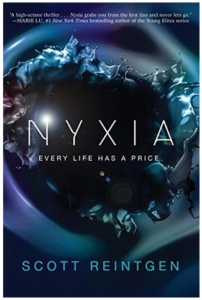 What got me thinking about this is one of my current reads, Nyxia, by Scott Reintgen. This is a fairly recent YA sci-fi novel that I am absolutely loving! It was published in September 2017 and although I do not see too much buzz about it through social media channels, it definitely deserves some. The book is set in the near future where this huge corporation, Babel, picks ten teenagers to go to space and compete for a chance to be sent to the planet of Eden to mine a new miracle substance called, nyxia. The characters are very diverse, coming from countries all over the world, and the competition is fierce. The author, who is a teacher, writes teens very well- the dialogue and how they relate to one another is spot on.  I am about half way through and the gist at this point is training, training and more training. These kids have so much to prepare for, being sent onto alien soil, that is in fact inhabited by aliens! A lot of the training takes place in VR (virtual reality) which adds a super cool gaming element to it as well!  I would highly recommend this book to anyone who loves a great sci-fi story with teenage protagonists!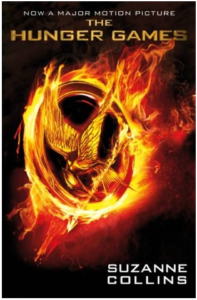 Of course, one of my favorite books of all time featuring a fierce competition would be The Hunger Games by Suzanne Collins. This book is pretty much the epitome of competition narrative. When this book was released in 2008 it quite literally took the world by storm.  Everyone of every age seemed to be reading it. The story takes kids seriously and puts them into a competition where the ultimate goal is to be the last man (or woman) standing – it was gritty and ground-breaking at the time and has seriously inspired a great assortment of other similar stories in YA-literature.
One of the main reasons why I love The Hunger Games so much is Katniss Everdeen.  I absolutely adore Katniss as a protagonist due to her smarts, her strength and her ability to overcome any obstacle set before her.  Her will and drive is unsurpassed and although at times aloof, I feel her character is one of the most likable around.  After she volunteers to be a tribute for her district, in order to save her younger sister, Prim, Katniss is swept away to the Capital for training. She is definitely in the position of underdog going into this competition. Firstly, she is a girl which people tend to underestimate in competitions of strength and survival, and also because she comes from one of the poorer districts. Once the media coverage for the games begins however she is quickly able to transform herself, owing especially to a cleverly plotted 'romance' with her district's male tribute, to a crowd favorite. If you haven't read The Hunger Games yet, at least watch the movie! A very well done adaptation in my opinion.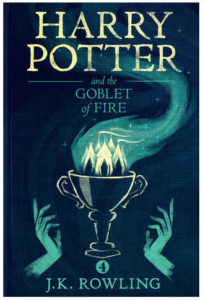 Now, I couldn't possibly write a post about competitions in books without mentioning Harry Potter! Although a vein of competition runs throughout the series, through everything from Quidditch games, to the House Cup, my ultimate for the series would be the Triwizard Tournament. The Goblet of Fire, the fourth book in J.K. Rowling's epic fantasy series, has always been my favorite and I think a lot of that is due to the competition itself. In The Goblet of Fire, we get to meet wizards and witches from other schools, which is also very cool and unique to this book. Even the legendary quidditch player, Viktor Krum is in residence at Hogwarts for this one! (swoon) The Tournament itself, well, it is by no means an ordinary competition – the level of danger and mystery is unequaled and this one, I know, will always stand on a pedestal to me!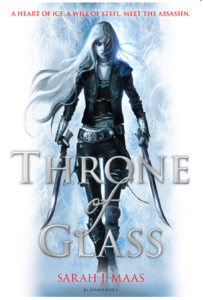 Another book with an intense and highly satisfying competition element is, Throne of Glass, by Sarah J. Maas.  This is the first book in Sarah's hugely popular Throne of Glass series and it is where we meet 18-year old assassin, Celaena Sardothien. Celaena is a great character and has quickly taken a place on my 'favorites' list.  She is snarky, bold and haunted by a violent and mysterious past. In this start to the series, you learn that Celaena has been a prisoner at a labor camp, a mine to be exact, and she gets pulled out by Prince Dorian who offers her a chance to win her freedom.  In order to do so, she must act as his champion to compete for the chance of becoming the royal assassin. She agrees to his conditions and travels to the capital to begin her training. Once there she meets all the other champions, all strong, murderous burly men – okay, she is definitely an underdog but does she let it get to her? No way! Not Celaena – this girl is fully confident in her abilities and indeed they seem to be unmatched. She begins training with Chaol Westfall, the Captain of the Guards and Prince Dorian's long-time friend. No matter what he throws at her she never backs down.  I love this girl! The competition is brutal and it pushes all contestants to their limits. This is a must read for anyone who enjoys a hearty competition!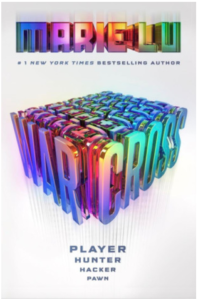 Finally, the last book I would like to mention in this fierce competitors post is, Warcross, by Marie Lu.  This YA sci-fi novel was released in September of 2017. I pre-ordered a copy of this one for the cover alone but it ended up being one of my favorite books of 2017! The competition in this book is the International Warcross competition – what is Warcross you ask? In this story, Warcross is a VR game that essentially has taken over the world. Everyone in this story plays or at least it seems that way. Set in a rather bleak near-future, Warcross isn't just a game, it is a way of life.  Our main character, Emika Chen, is a brilliant computer hacker who makes her living as a bounty hunter tracking down players who bet on the game illegally. When she uses her hacking skills to actually glitch into the real Warcross games she attracts the attention of the game's creator, Hideo Tanaka, and our main course of action begins there. The gaming elements and competitive feel of this book keep it rolling along nicely with plenty of action. The final two chapters left me with chills. They say so much about our times, real life issues and philosophical ideas that could be hotly debated.  The second book in this duology is being release on my birthday this Fall (September 18th) so how perfect is that?  I will definitely be pre-ordering this one as well!
Do you know of any books with a strong competition element to the storyline that I haven't mentioned here? If so, let me know about them! Comment here or message me on IG – I want to know and add them to my tbr! Cheers for now and happy reading!