I have been so lucky to have received numerous incredible ARCs (advanced readers copy) to read this summer! I feel so blessed to have so many amazing stories to choose from. Below is a list of my the top ones I am anticipating for the next month: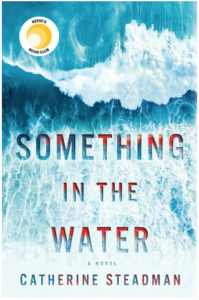 1. Something in the Water by Catherine Steadman – This book, which was released this past Tuesday, June 5th, is my current read. To say I am loving it is to put it mildly. I think of this book all day long while I am away from it doing serious adult things. This is a debut novel for Ms. Steadman and so far, I am impressed. The style of writing is very fluid and engaging. It follows one POV which feels a change for me – everything I have been reading lately seems to be multiple POVs – so I am happy to sit with this one character for a while and have her tell me her tale. Basically this one involves a young, perfect couple who in the midst of some financial and career hardships go on a dream honeymoon to Bora Bora. Once there they discover something in the water while scuba diving that will change their lives forever. I am almost halfway through this one and can't wait to discover how it turns out.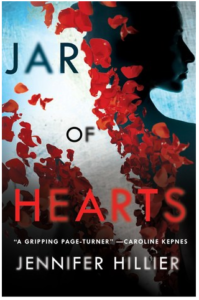 2. Jar of Hearts by Jennifer Hillier – This will be by next read – hoping to start it early next week – it releases on June 12th. I am so excited for this one. So many friends of mine in the book community have read this and absolutely loved it. I have seen many, many 4 or 5 star reviews from people whose opinions I really respect. I do not know too much about the story, which is how I prefer to go into Thrillers. From what I can tell, it is a story about three friends, one disappeared in high school and 14-years later her body is discovered and one of the others is arrested for it. The last of the three friends is a police investigator and I believe perhaps she unravels the truth. It sounds exciting – I am all about skeletons being dragged out of the damned closet so this sounds right up my alley!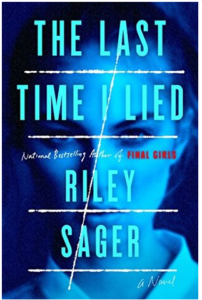 3. The Last Time I Lied by Riley Sager – Riley Sager is the author of one of my favorite novels of 2017 – Final Girls – and this, his second novel under this name, is one of my most anticipated books of the year! My excitement level on receiving notification that I was receiving and ARC of this was skyhigh 10-out-of-10. This book is set to release on July 10th and I know I can get it read well before then. Since this is a Sager, I am anticipating an unreliable narrator of some sort and tons of twists and turns and edge-of-your-seat moments. This story also has a group of young friends that something happens to all of them but one. It has a summer camp setting – which will be the third summer camp book I have read this year – I live for this type of setting. Basically, the survivor of this summer camp debacle returns to the camp years later as an art instructor and while there, she plans to figure out what happened to her friends. I just know I am going to love this! Added bonus: the cover!!!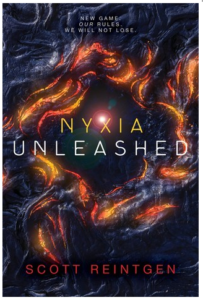 4. Nyxia Unleashed by Scott Reintgen – This is the second book in the Nyxia Triad series with a expected publication date of July 17th. The first book in this series, Nyxia, I just finished in April and gave 5-stars to…which reminds me, I need to post a full review for that! (stay tuned for more one that…) Anyway, back to Nyxia Unleashed…so, I was so excited to receive an ARC of this to continue along with the series. This is a YA-science fiction series that follows our protagonist, Emmett Atwater, as he travels from Detroit to space to compete for a chance to mine a miracle substance, Nyxia, on a planet called Eden. This series has a great cast of diverse characters, cool sci-fi aspects, mystery and a sinister corporation element. I would highly recommend this to anyone who likes science-fiction; it's a heck of a lot of fun and I cannot wait to see where this one takes us!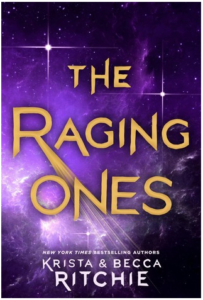 5. The Raging Ones by Krista & Becca Ritchie – This is the first book in a new YA-science fiction/fantasy series that is set to release on August 14th. This one sounds really unique and fun. It is set in a future where the world is frozen and everyone knows the day they are going to die. Three teens somehow escape their death days and are forced to try to flee the planet in order to survive! I mean, does that sound exciting or what!? I am really looking forward to getting to this one – I really do not want to learn anything else about it before I start – I feel like this is definitely the kind of story where it is best to go in blind.
Do you have any of these books on your radar? What are your most anticipated releases of the summer? I'd love to hear about them! Leave a comment below or visit me on my other social media channels – links to the side! Thanks for reading! xo