Publication Date: October 9, 2016    |    Rating: 3.5-stars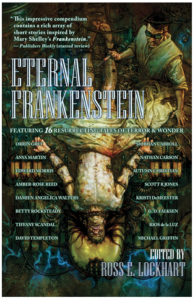 Eternal Frankenstein is a short-story collection consisting of various tales all inspired by Mary Shelley's Frankenstein. I would actually give this a 3.5-star rating (if given the option Goodreads, ahem…). Frankenstein in its original form is one of my favorite books of all time. I think generally people automatically think HORROR when they think ofFrankenstein and although it is horrific in many ways, it is also lyrical, thought-provoking and darkly beautiful. This collection I felt paid lovely homage to that original text.
This is actually the FIRST short-story collection I have ever read that was not written by Stephen King. So, that's something. I am glad I read it. There were 16 different stories in all written by different authors and all tales were unique and examined the original text in their own ways. Obviously, as I am assuming is the case with all such collections, some of these were much more tailored to my style than others – there were actually a couple that I just did not get at all – but overall I found them enjoyable and grossly entertaining. There is quite a bit of violence and gore in this collection, so true horror fans rejoice! There is no tip-toeing around grotesque and macabre subject matter. In this same line though, I would say trigger warning for self-harm, suicidal ideation, suicide and child abuse/murder.
If I had to choose my most memorable story of the collection, I would have to go with Wither on the Vine; or, Strickfaden's Monster by Nathan Carson, solely because one of my idols, Nikola Tesla, makes an appearance in the story which I found super cool! I would definitely recommend this to any horror fan who happens to love the original,Frankenstein. I would say for those of us who are low-key obsessed with that book, this is a special treat! As a side note, I would love to see this same type of collection developed for Dracula, War of the Worlds, The Island of Doctor Moreau and Dr. Jekyll and Mr. Hyde if Mr. Lockhart would like to get working on that. Dare to dream.
What is the best short-story collection you have ever read? I want to know! Leave a comment below or contact me on my social media – links to the right!