Publication Date: February 27, 2018    |    Rating: Solid 4-Stars!!!    |     Jane Lawless #25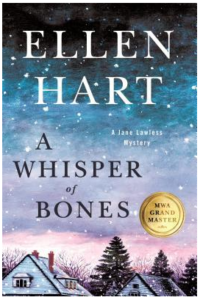 I received A Whisper of Bones as an e-ARC through NetGalley. The first thing that drew me to this book was the cover. It's gorgeous. I love the colors…and it's a mystery, one of my favorite genres. I failed to note however that it was #25 in a series; completely blinded by the cover…again. However, I kept it in mind and kept checking reviews to see if I could read it as a stand-alone. I certainly didn't have time to go back and read 24 books in order to get myself ready for this one. I was so psyched when I discovered that this series, like many adult mystery series, do not need to be read in order; think Hercule Poirot, Murder, She Wrote, etc. You could definitely read this as a stand-alone so if you haven't read any other books in this series, please don't let that deter you!
Jane Lawless, our MC, is a restaurant owner and a PI who is hired in this case by a young woman named Britt Ickles. Britt is looking for answers about what happened to her cousin, Timmy, who she only met once when she was very, very young. The answers dwell with Britt's two old Aunts, Eleanor and Lena, who live together in a boarding house they own. Jane goes undercover and rents a room at the house for her investigation. Aiding her is her best friend, Cordelia Thorn, who was my favorite character of the whole book! She is an over-the-top theater director who brings so much joy and humor to the story that I laughed out loud during more than one scene that she was a part of! I seriously would read an entire series of just Cordelia Thorn books…honestly, I think the world needs that. Needless to say, a whole cast of wonderfully drawn out side characters arose, deep family secrets were revealed and it kept me involved as a reader the whole way through.
Another great element in this book, which I was unaware of going in, is the strong LGBTQ+ rep going on here. Jane is a lesbian and we get to read about her complex relationship with her on again, off again girlfriend Julia. I feel like sometimes it can be hard to find solid LGBTQ+ rep in Adult lit, particularly in the mystery genre, so this was a welcome change of pace and I definitely plan to pick up more books in this series. The good news is I have 24 more books I get to choose from! So, if you love a good mystery with a fun and engaging cast of characters and a great, classic whodunnit format, you should definitely pick up this book!!
Thank you so much to the publisher, Minotaur Books, for providing me with the opportunity to read this book and provide my feedback. I am confident other mystery fans will enjoy it as much as I did!