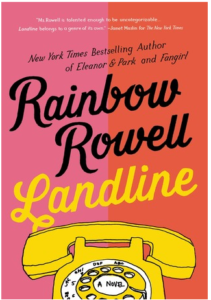 Publication Date: July 8, 2014
I really enjoyed this! It was exactly what I needed right now. I have been reading a lot of heavy fantasy/sci-fi/horror and my mind felt like it had too many worlds being built in it. This was the perfect 'this world/this time' tale that I could listen to without too many mental acrobatics! I went into this without knowing too much about it and I am so glad. It was such a fun, unique concept. I would classify it as a very modern, retelling of A Christmas Carol.
The writing was very smart – I loved the main character and I really enjoyed going along with her as she comes to some pretty serious realizations about herself, her relationships and life in general; what it's all about. The side characters were very well drawn – her best friend, Seth, her sister, Heather and her Mom were my favorites. They were a quirky bunch that definitely added a lot of humor to the story. I listened to the audiobook and felt like the narrator was perfect for our MC, Georgie. I would definitely recommend this to anyone looking for a fun, witty contemporary read!
What type of book do you gravitate towards when your brain needs a break? I love a good contemporary or cozy mystery when I am in those kind of moods!