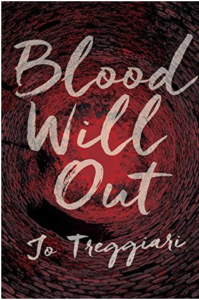 Publication Date: June 5, 2018
2-stars (translation: I did not like it).  I DNFed this book a while back. For those of you who don't know, DNF stands for 'did not finish'. Initially, I wasn't going to write a review on it as it hurts me to have to give such a low rating to a book. I know authors work really hard to put these books out and it is so hard to write and so hard to take criticism for what you write. This being said, I have changed my mind as I feel it is important to review all books you read, whether good or bad, if you are a consumer reviewer. This one should serve more as a PSA to other readers who will be as shocked by this as I was. Trigger Warnings: Animal Abuse, Torture, Mutilation & Killing.

The reason I stopped reading this one is that the pointless torture of animals is not something that I can read. I tried to muscle through by skimming over those sections but then I was missing entire portions of the book. Pretty much all of the 'psycho' character's chapters (as this book is told from two POVs – the victim and the perpetrator). Some books have this type of 'situation' once maybe twice in a book and it can easily be skimmed over as it is just one or two paragraphs. This didn't seem to be the case here.
This book sounded interesting in the synopsis and I understand what the author was trying to show; that this person is a psycho- or sociopath who began his lust for blood with experimentation in torturing and killing small animals and then escalated to where he is now, but I just personally felt it was too much. Wayyyy to much. I always have a difficult time getting through a scene or two in a book that involves an animal being killed but this was above and beyond what I personally chose to partake in.  I know, I know, it is a work of fiction but there are so many GREAT books out there to read, I simply cannot finish one that is so far against the grain for me.
I appreciate that I was given the opportunity to read this book early and wish I could have made it through. Thank you to the publisher and NetGalley for the chance and I wish this author the best of luck with this story!