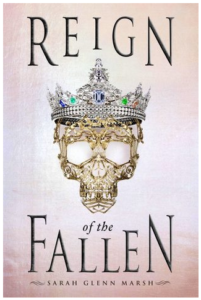 Expected Publication Date: January 23, 2018
I started reading my e-ARC copy of Reign of the Fallen by Sarah Glenn Marsh on Sunday….I am already 40% through it and that is while reading 6 other books and working full time!  I am loving this one – I want to be reading it all the time, I cannot put it down! Firstly, a big thank you to the publisher, Razorbill (Penguin Group – Penguin Young Readers Group) for providing me with an early copy. This could be up there in the running as one of my top books of 2018!
Reign of the Fallen is a YA Fantasy book with a female protagonist who is a master necromancer in her city. I am totally engrossed in the magic system of this book – I love the necromancers, the healers, the royalty, the shades, the deadlands…..I could go on and on. The characters are very likable – I have had my pulse raised, my heart crushed, my spirits soaring in anticipation….do yourself a favor, if you like YA, get yourself a copy of this book.  I know I will be buying a hard copy once it is released….I mean, look at the cover and with a story this intriguing, I will definitely want to read it again!
Happy Reading Lovies!