Good afternoon guys & ghouls!  Sorry, I'm still a bit in the Halloween spirit – Last night I made a lot of progress in the book, Sitting Murder by A.J. Wright.  I was provided a copy of this book by the publisher Endeavor Press in exchange for an honest review.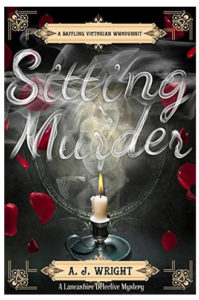 First off, the cover – that is what attracted me to this book; it's gorgeous!  This is apparently book #4, in a currently 4 book series called the Lancashire Detective Mystery series.  This being said, I was unaware of the earlier books prior to starting this and I don't feel that it is inhibiting my enjoyment at all.  I don't feel like I am missing any pertinent information.
I have noticed there is not a lot of really strong character development – it is a pretty standard police procedural with the classic, whodunit, format.  However, it is a historical fiction mystery, being set in Victorian times which is fabulous!  I love the atmosphere the book has created thus far – it has such a gothic feel with a girl acting as a Medium, seances and a murder!  Seriously, what's not to love!?
I was surprised when I checked on Instagram that there were no posts regarding this author or this series.  It is really well written, I wish it were getting a bit more attention.  You know I'll be posting it once I am complete with a review – I am looking forward to finishing this one up!
Happy Reading!